"Totes Need a Mimosa" Iron-on Printable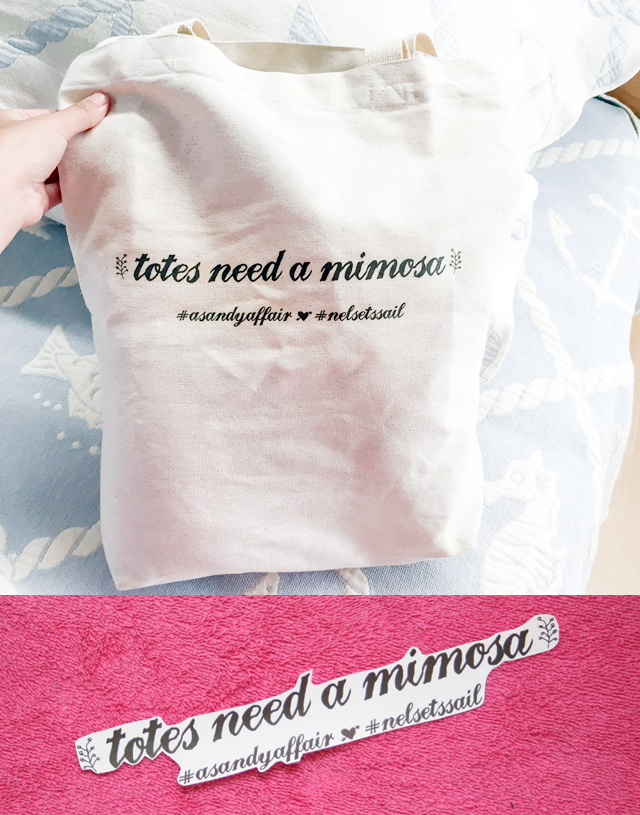 This past weekend was my bachelorette and I had THE BEST time with my girlfriends in Dewey Beach! Two of my bridesmaids planned the whole thing and I must say they did goooooood. Even the beach house was beautiful and everything I could've dreamed it to be! I wanted to make them a little something for the weekend and thought a DIY tote bag was a good idea! I was trying to think of something clever to go on them rather than just having their names so I came up with this: "totes need a mimosa" …it's a two-in-one pun! I thought I'd make this printable for you guys to use as well! Whether it be for fun, or for a bachelorette/wedding day gift this tote is too cute not to make!
---
What you need:

• Canvas tote bag — I found a pack of 2 here at target
• Iron-On Transfer Paper
• Iron
• Scissors
• "Totes Need a Mimosa" Iron-On Printable
---
How to:
Step 1. Using your scissors, cut out the quote. Be sure to cut as close as possible so you won't have a lot of excess transfer paper around the quote.
Step 2. Place your tote on a hard surface and iron the quote on. Follow the instructions on the package of your transfer sheets. Some may vary with how long you iron. Let cool for 5 minutes.
Step 3. Once cooled off, slowly peel the sheet off of the bag.
Step 4. Bag complete!
I was pretty happy with how these bags turned out. I even included the hashtags on the bags, which added another personal touch! What do you guys think? Quote a little cheesy or would you totally make it?