Our Road Trip to Nashville, TN
Last year was such a fun year of adventure for my husband and I! We knew that 2016 was going to be a year of spontaneous adventure and just saying yes to everything when it came to travelling. One place that was on our list was Nashville, Tennessee. B and I have heard wonderful things about the city and it's home of the Titans (B's favorite football team), which made us want to go even more.
After Charleston, B and I agreed that we might not make it to Nashville this year due to summer coming to an end and not being able to grab a good deal on flights there. Little did he know his mom and I were planning something special for his birthday behind his back! We ended up surprising him with tickets to the Titans game on Veteran's Day weekend and he was so excited! Since I know we were on a tight budget for this vacation, we opted to drive out there. After all of the travelling we did during the summer (particularly driving), being in the car for 10 straight hours really didn't sound all that bad to me anymore! It felt like a fun spontaneous road trip, which was our motto for the year!
We ended up leaving early Thursday morning and made it to Nashville around 6pm that night (made some pit-stops and traffic). Once we settled in, we grabbed some delicious tortilla soup and tacos from Mas Tacos Por Favor. The tortilla soup was soooo good, and we highly recommend eating there if only just for that!
After dinner, we grabbed some tea and coffee at Ugly Mugs Coffee & Tea. We actually ended up going there to relax just about every night too – loved that coffee shop!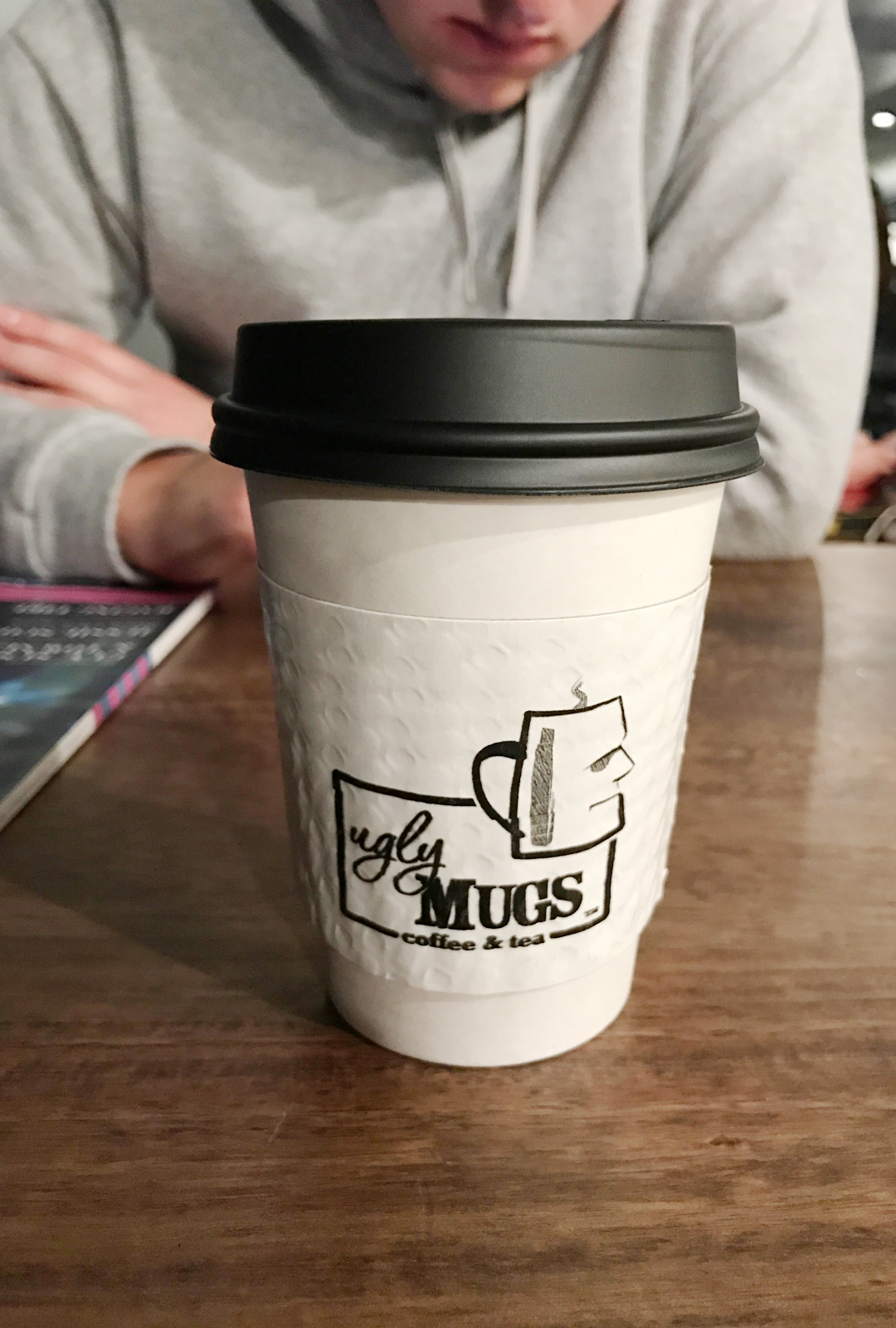 The next morning we woke up super early to get a head start and drove over to The Loveless Café for breakfast. This place is a must! It's about 30 minutes out of town, but so worth the drive and wait! Yes, you may have to wait. I think we waited for about 45 minutes, but that's really not too bad and so totally worth it: their biscuits were the bomb!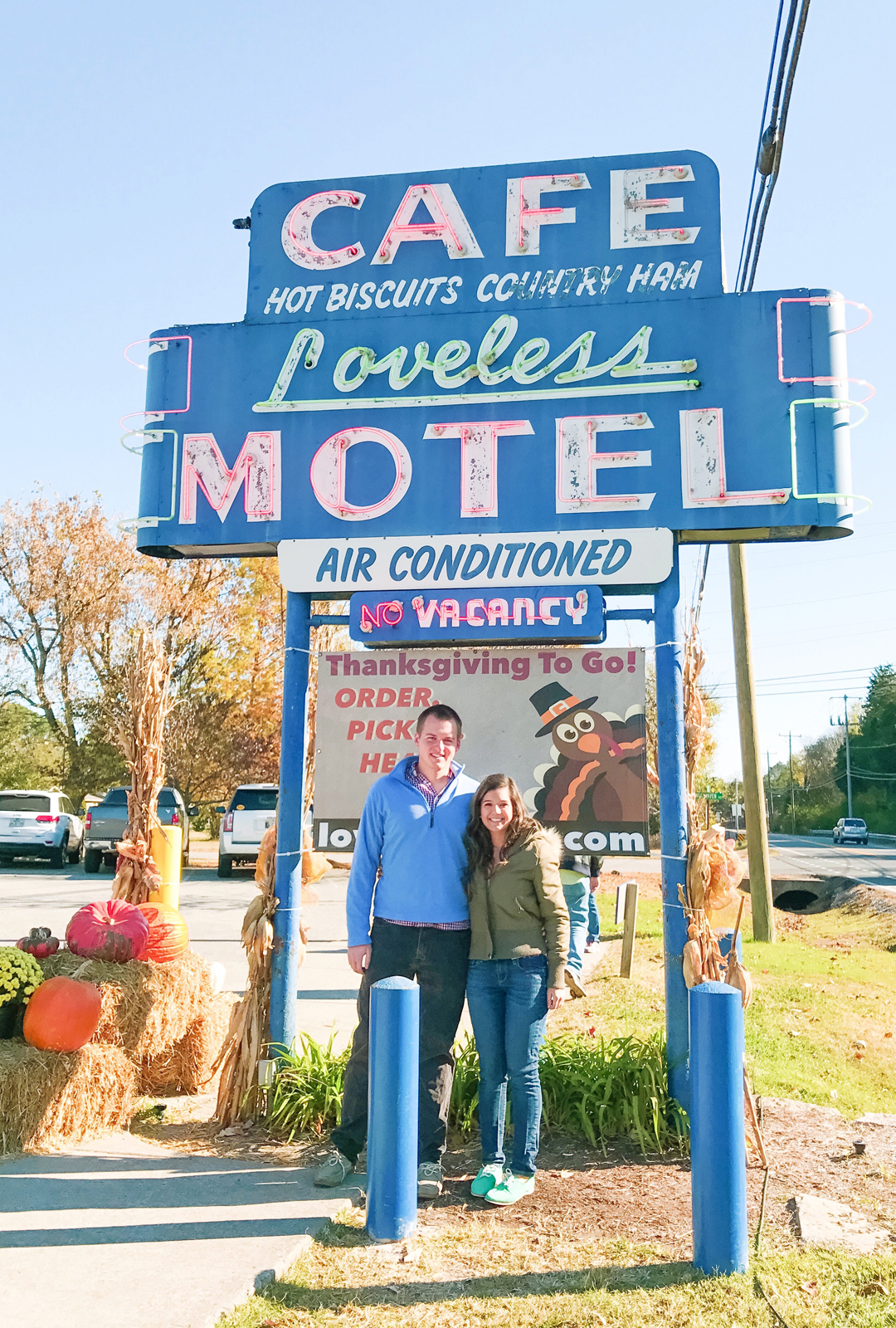 After breakfast, we did a little tourist site seeing and stopped by The Parthenon, snapped a few photos, then made our way over to downtown. B's a huge fan of whiskey, so we obviously had to stop by a distillery for him. We ended up going to Nelson's Greenbrier Distillery.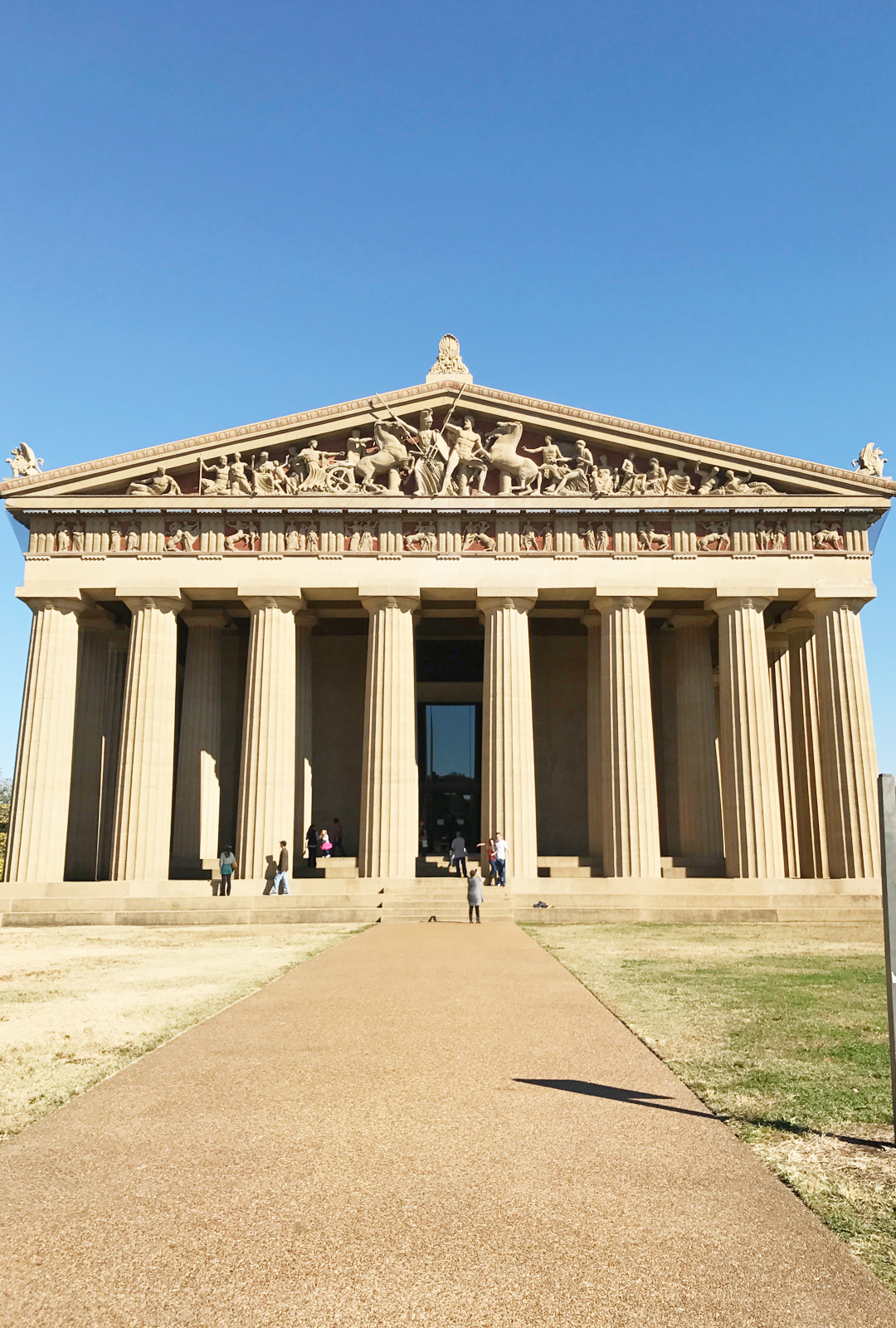 After that, we then walked around downtown and wow it was SO alive! That weekend the Titans were playing the Green Bay Packers, so there were A LOT of Packers and University of Wisconsin fans everywhere. The downtown was so fun with all the indoor/outdoor bars, great drink deals, and live music everywhere! Now I see why people have their bachelor and bachelorette parties there! I already can't wait to go back!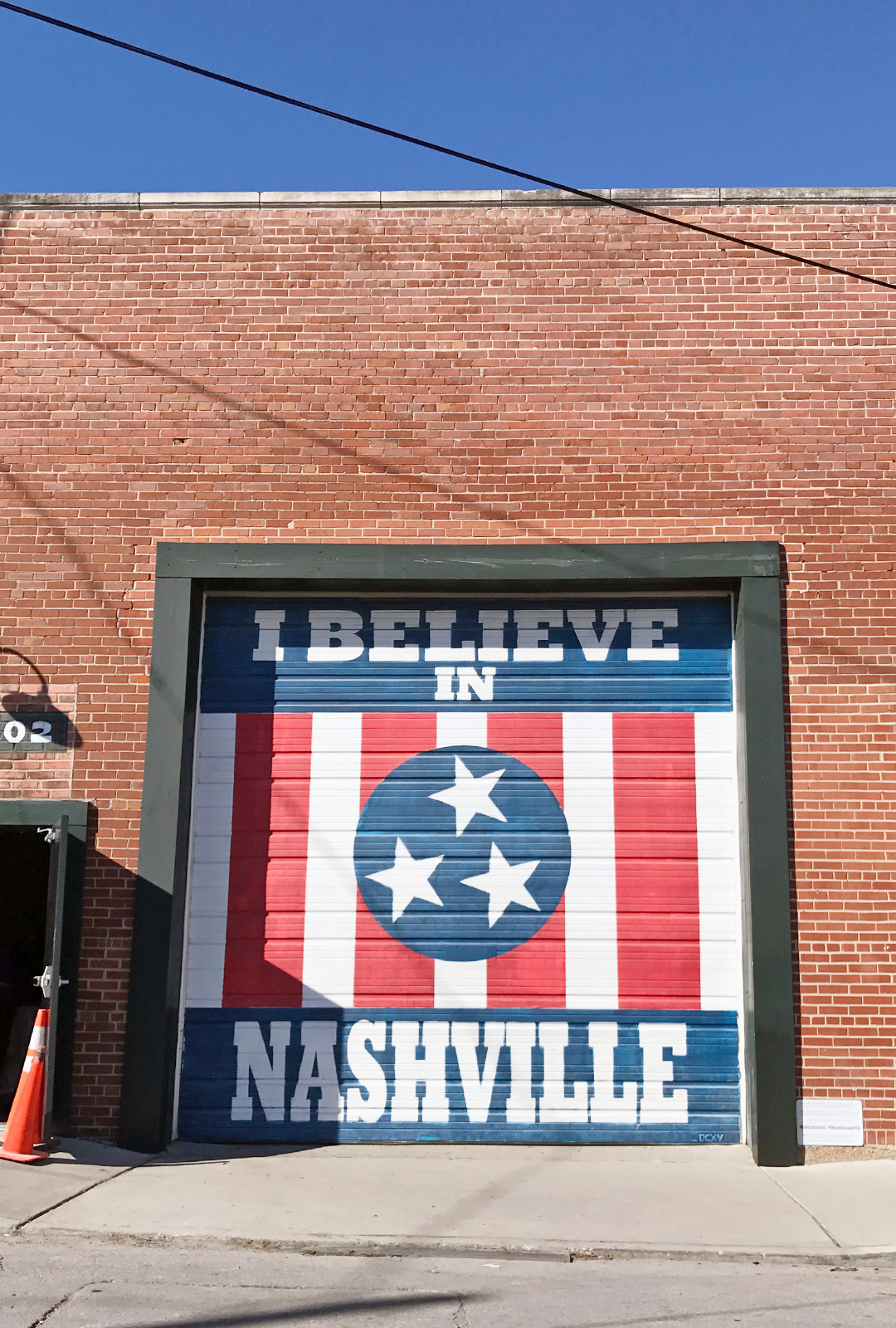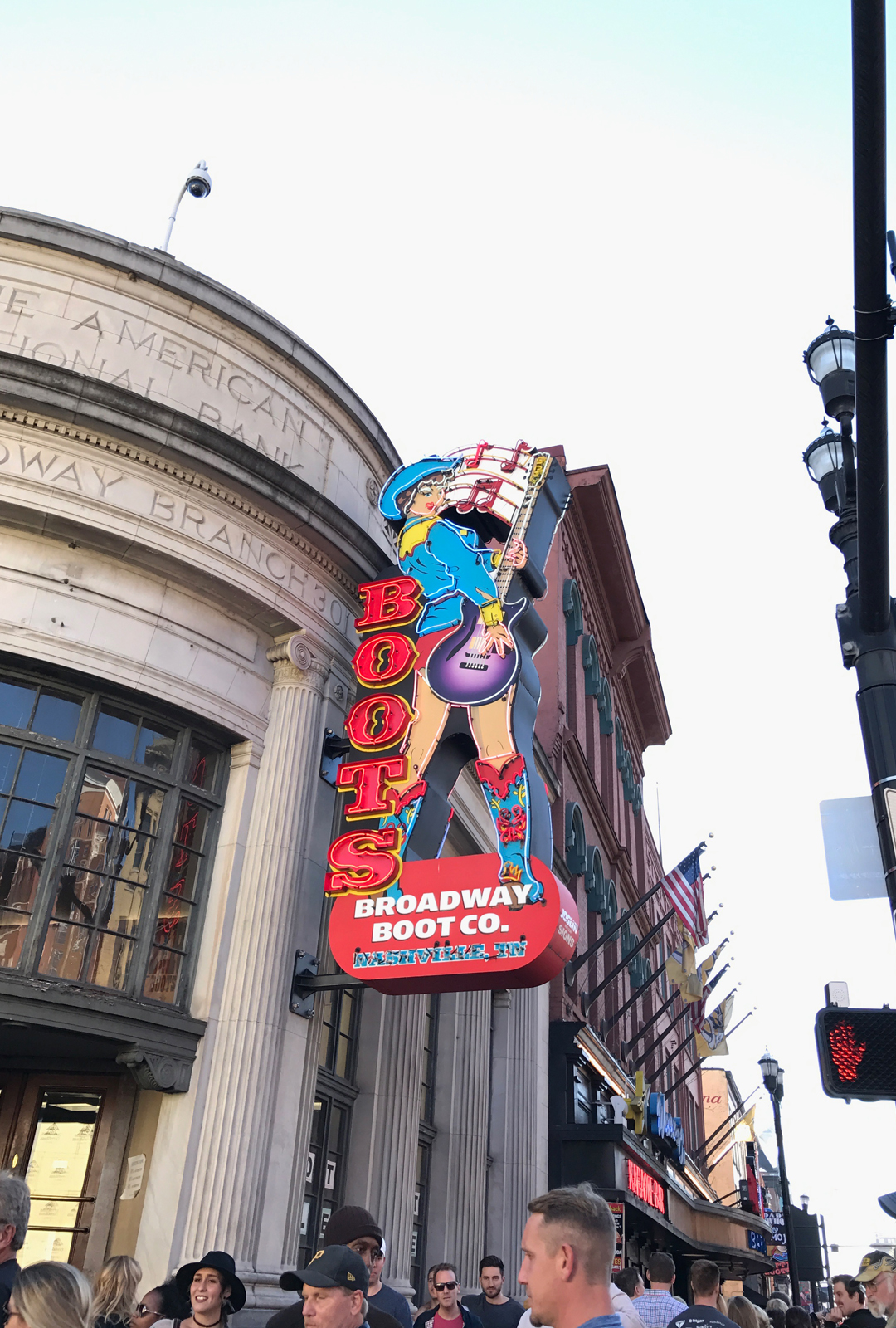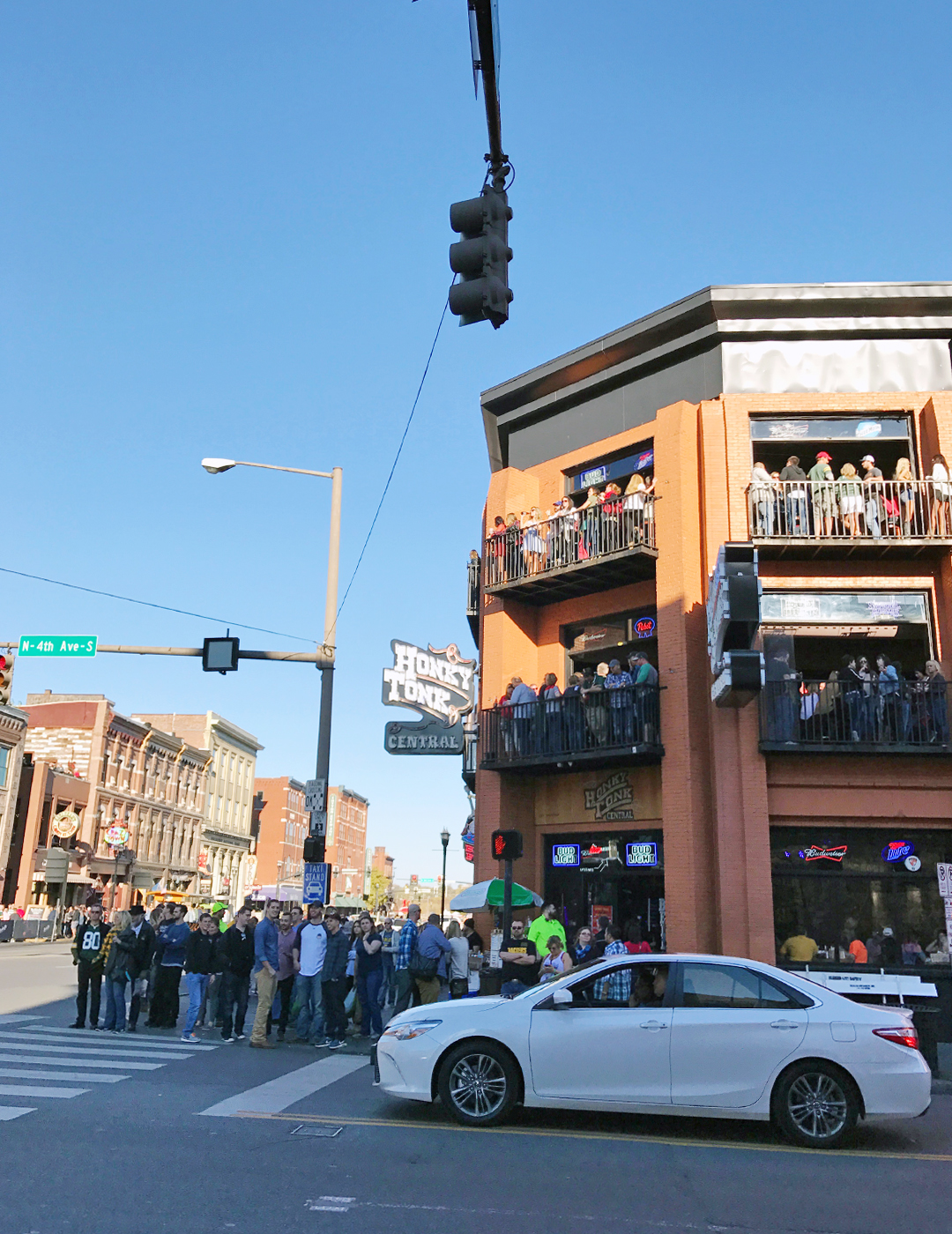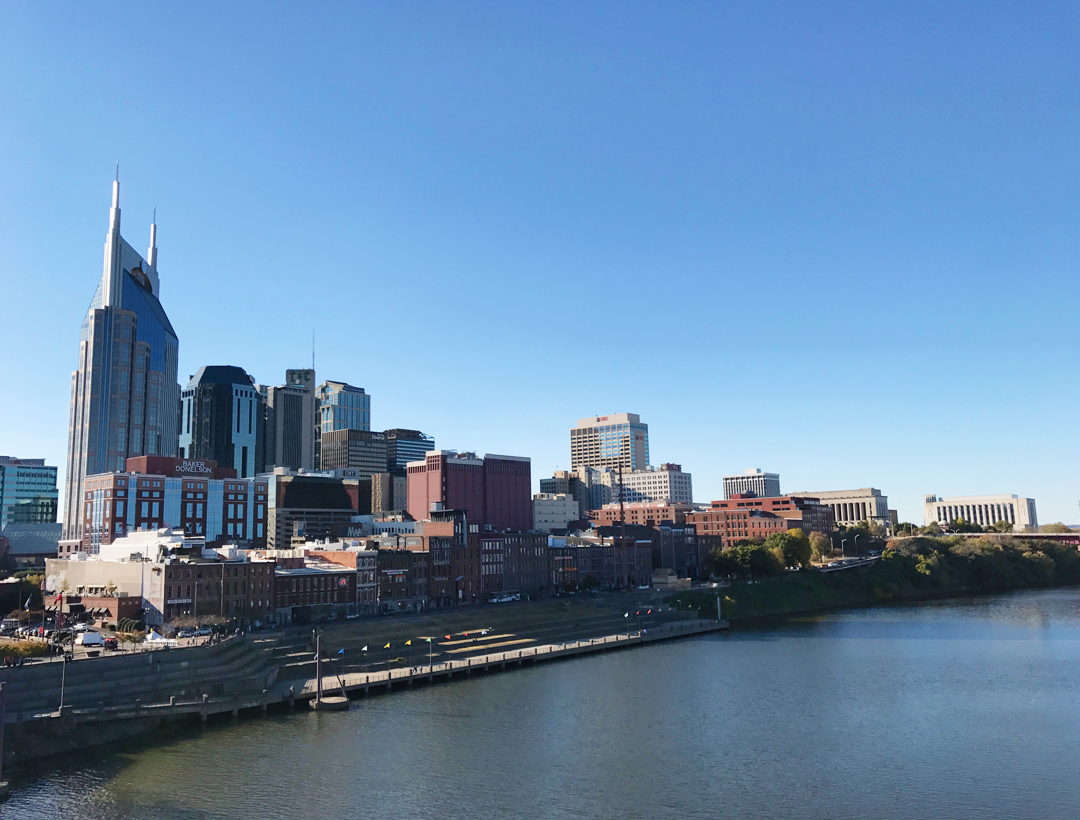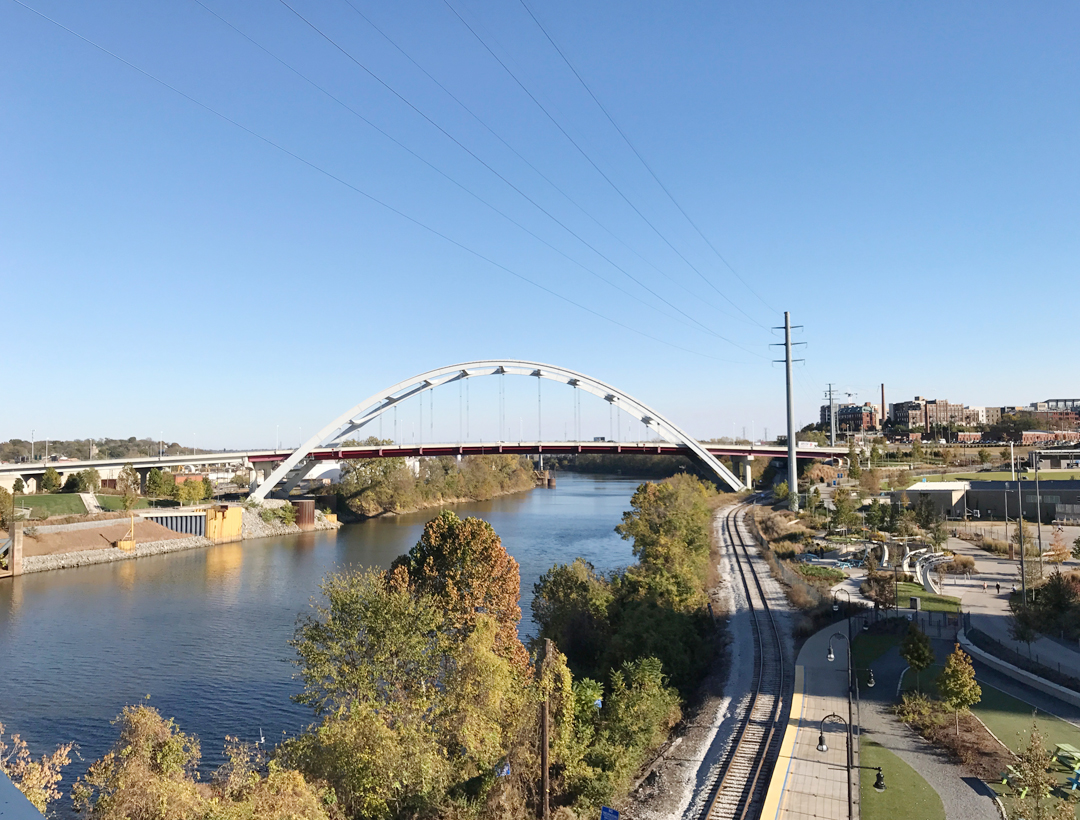 After doing a little walking and hanging around, we grabbed an early dinner at Hattie B's Hot Chicken. While I am not a huge fried chicken fan, I must say it was yummy! If you're visiting Nashville, you have to stop by Hattie B's.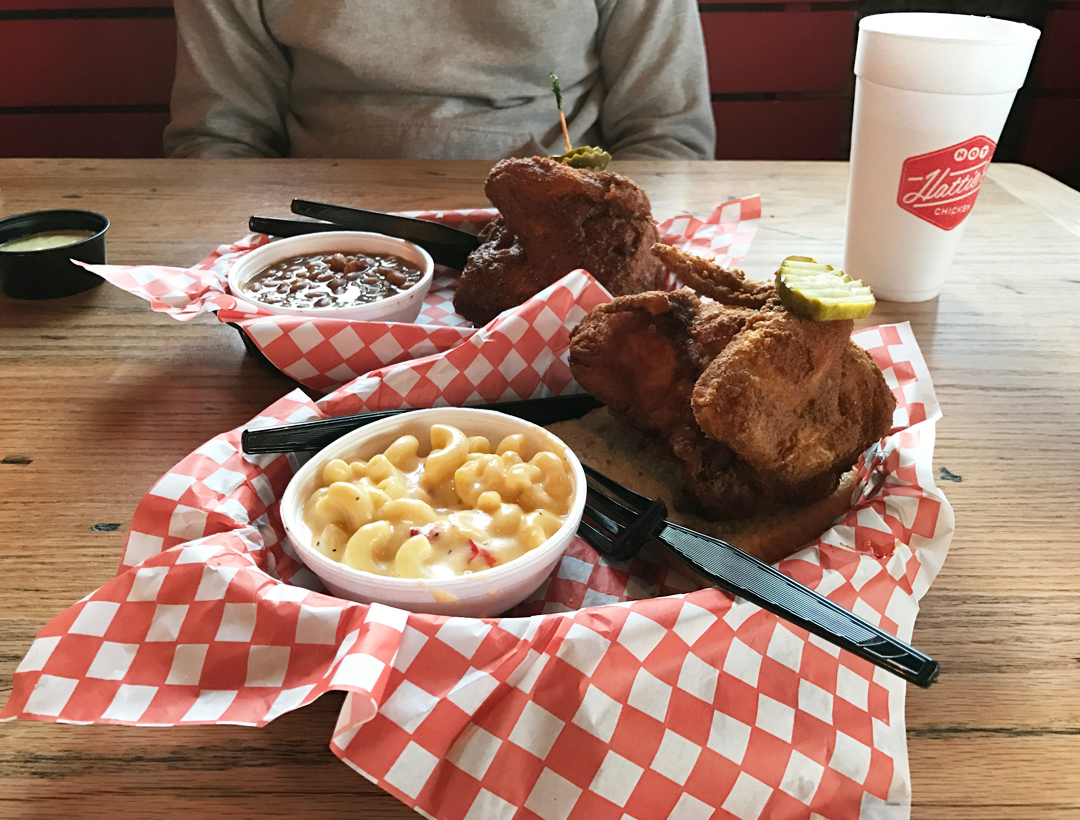 After our meal, we knew we wanted to take a drive over to see the Grand Ole Opry. On our drive there we noticed the most beautiful Christmas lights and nativity set right next door to the Grand Ole Opry so we parked and went on a mission to see the lights. It ended up being at the Gaylord Opryland Resort right next store. The Christmas decorations were so beautiful inside and out!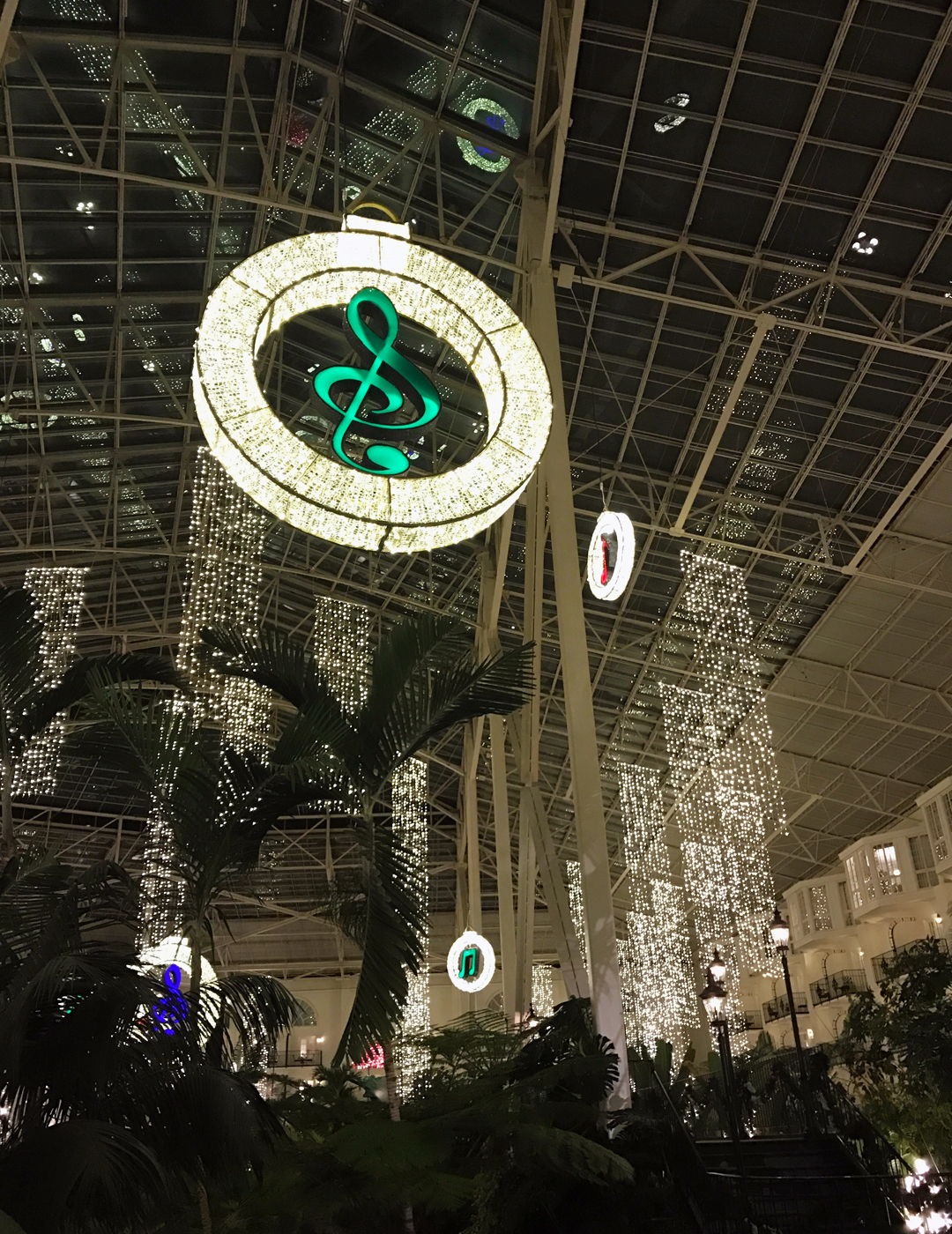 After our little stroll we wanted ice cream! Of course we grabbed a scoop or two at Jeni's! Their ice cream was soooo good. I recommend the horchata flavor ice cream! YUM!! After our little sugar high, we ended the night at Ugly Mugs Coffee & Tea once again (told you we went there about every night!). Got my peppermint tea and B got his dark roasted coffee. After that, we called it night. The next day was game day!
On Sunday we woke up early and took an Uber over to Biscuit Love. This place is obviously a tourist must. Yes, you may stand in line for a little, but it's worth it. Get their famous bonuts: you won't regret it. After our tummies were full, we headed over to Nissan Stadium for the game!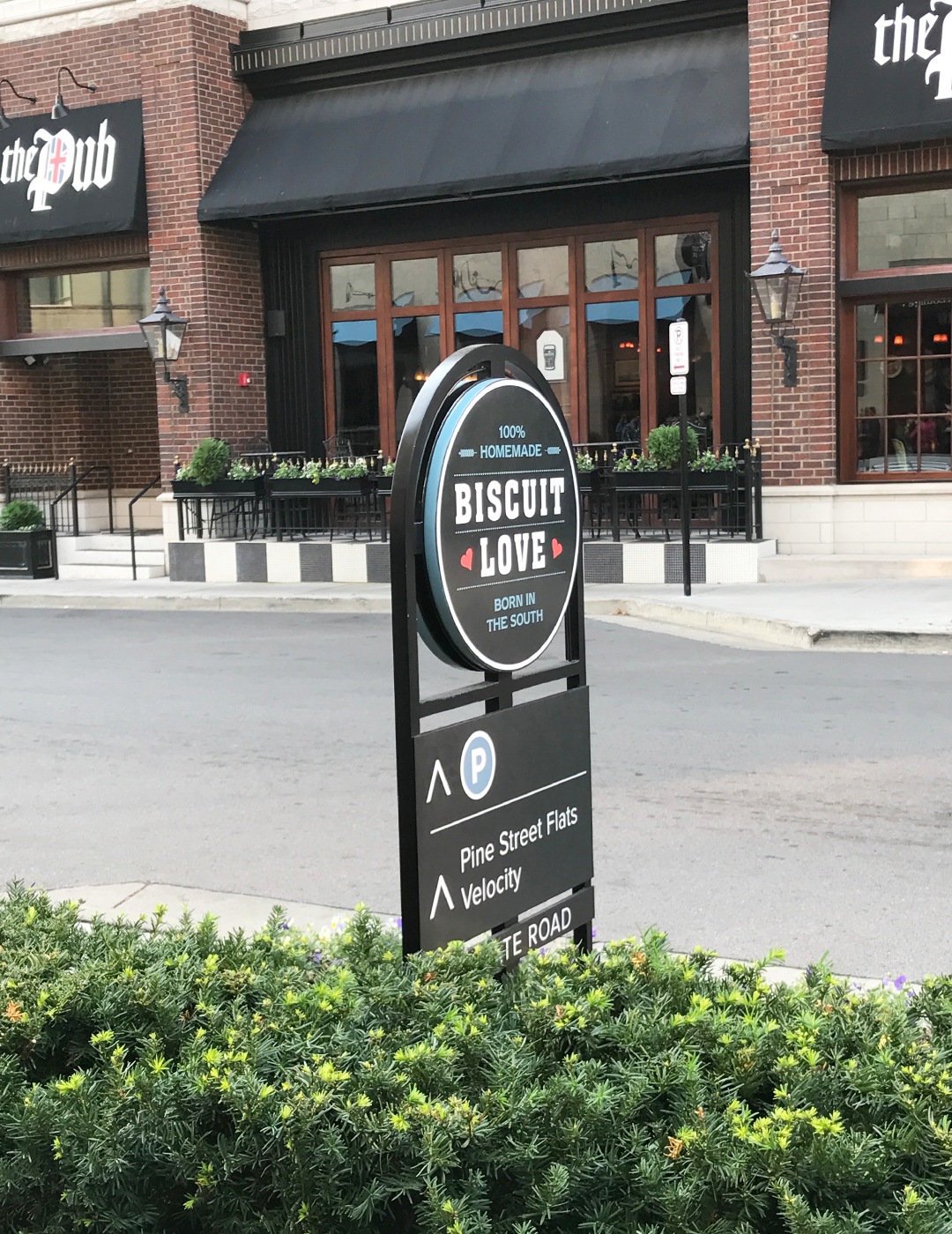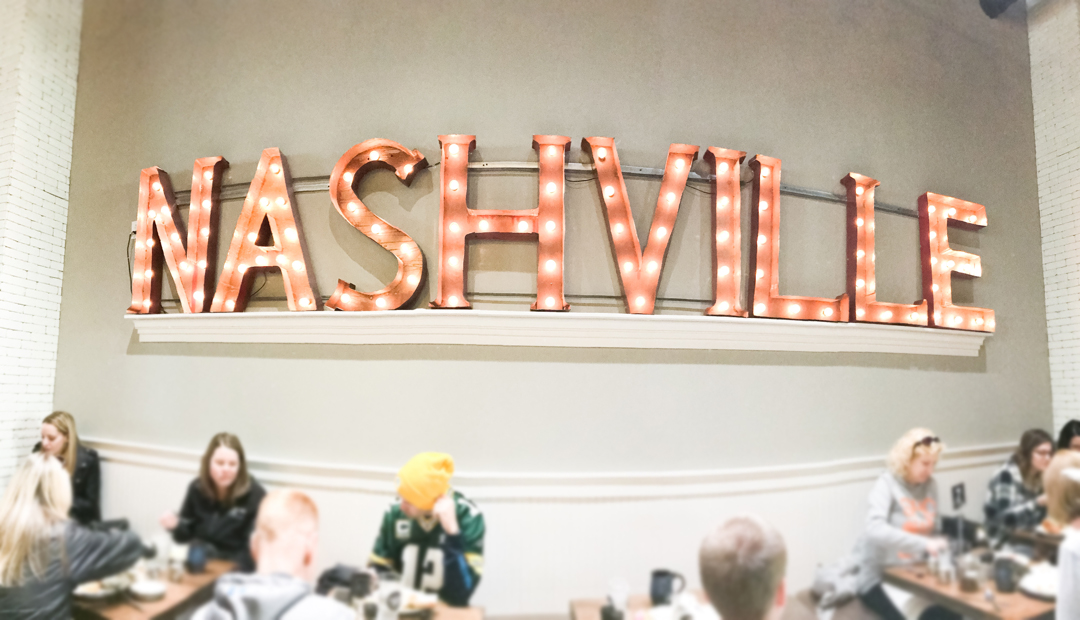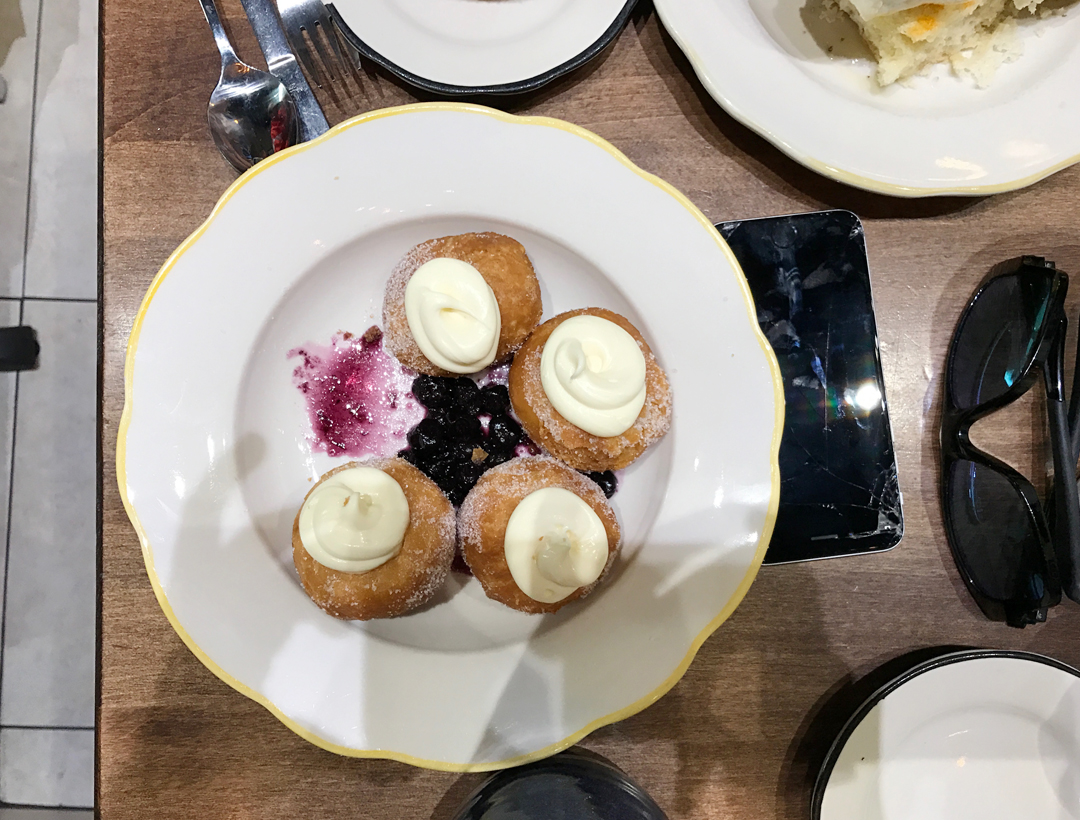 I won't bore you with a play by play, but the Titans freaking won! They won. I don't think we could've asked for a better home game to be at (given their track record…sorry B!). By the time the game was over we were absolutely pooped. We had made plans to go to our last "must-see", but we both agreed that we'd visit next time. So, if you're in town go to Pinewood Social and tell me how it is! Our goal was to grab dinner their and bowl. Yes, BOWL! It looks pretty cool from what I've seen on social media. Instead of bowling, we grabbed pizza at Five Points Pizza. SO YUM! Oh, and get the garlic knots as side! You can thank me later.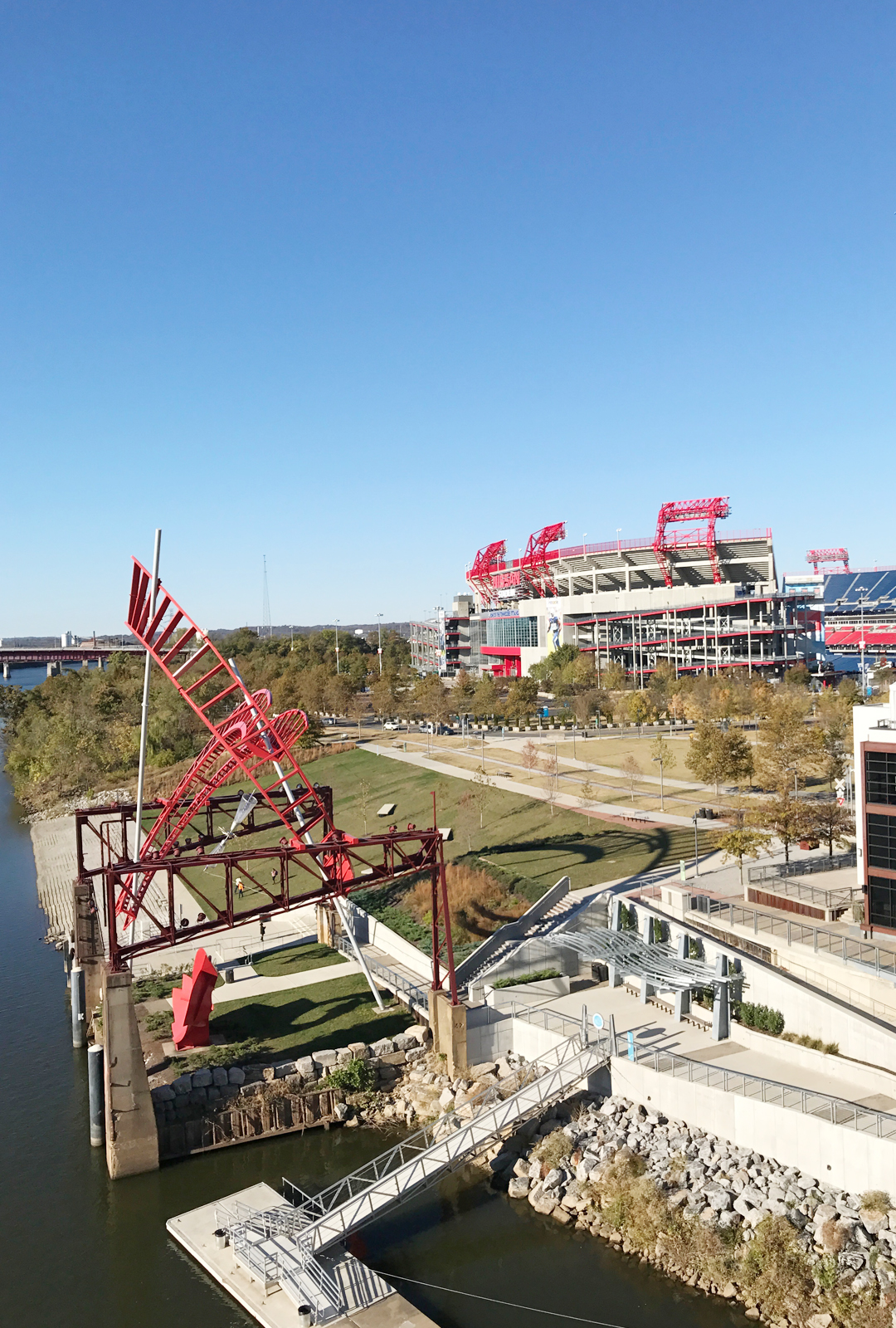 We ended up going to bed early that night as apparently the game wore us out, hah! Since we were leaving the next morning, it was probably a good idea to catch some zzz's anyway. I think we ended up leaving around 6 a.m. the next morning and made it back home at a reasonable time to relax and un-pack.
In conclusion, we'll be back Nashville. B and I have already added it to our list of places we need to re-visit.
Have you been to Nashville before? What are some restaurants/places you've visited that we missed?