No-Machine Spicy Chocolate Ice Cream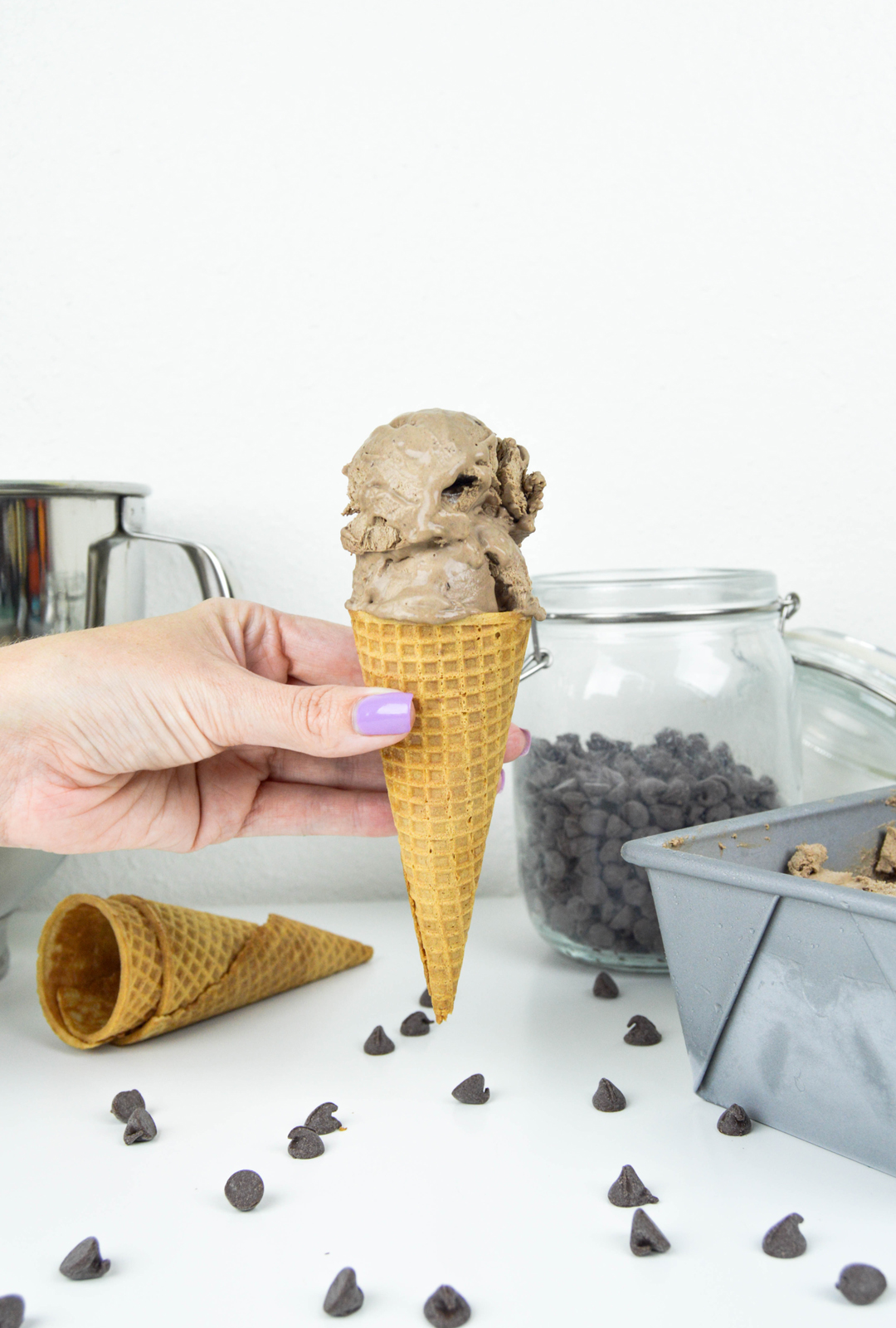 Hi everyone! I hope you had a wonderful Fourth of July weekend! Unfortunately, the weather here in DC was not the best for viewing fireworks, but it was a nice relaxing weekend overall. Now that it's July and the weather is really heating up here, I'm finding myself asking B if he wants to go out for ice cream at least twice a week…not even sorry 'bout it! Speaking of ice cream, today I'm happy to have Holly from Revamperate share one of her tasty recipes with us—Spicy Chocolate Ice Cream! …and there's no ice cream maker required (bonus!!). And yes, you read that correctly, spicy chocolate ice cream! Sounds rather deliciously intriguing right?! So without further ado, here's Holly with the recipe!
---
Hi there! Holly here from Revamperate.
I've been melting here in SoCal, so I jumped at the chance to make ice cream for Love Vividly when the temperature reached 100 degrees. Last year, I learned an amazing way to make ice cream without a machine, and now I never want to make it any other way. If you thought you could only make ice cream with a machine, prepare to have your mind blown…because you can make it with just a mixer!
This spicy chocolate ice cream recipe requires NO ice cream maker, just a hand or stand mixer. It has a little habanero powder to give it a kick, and if you like it super spicy, you can add more than my recommended amount below, but I couldn't handle any spicier. This recipe is fairly mild and has just enough spice to balance the chocolate. Plus, you can add whatever add-ins you want, like chocolate chips, candy or nuts.
---
Ingredients:
• 1 pint (2 cups) heavy cream
• 1 can sweetened condensed milk, chilled
• 4 oz semi-sweet chocolate, chopped and melted (or ½ cup chocolate chips)
• ¼ cup unsweetened cocoa powder, sifted
• 1 tsp vanilla extract
• ½ tsp habanero powder, finely crushed and sifted (or other chili powder)
---

Recipe:
Break up the chocolate and melt in the microwave. Stir in the sifted habanero powder and set aside to cool. In a separate bowl, pour in the chilled condensed milk and stir in the sifted cocoa powder and vanilla until smooth. Then stir in the melted chocolate.
In the bowl of your mixer fitted with the whisk attachment, whip the heavy cream on high speed until peaks form. Mix in the chocolate mixture and scrape the sides of the bowl as needed. If desired, you can fold in additional ingredients like chocolate chips or nuts now.
Use a spatula to spread the ice cream into a loaf pan or other container, and cover and freeze for 4-6 hours until the ice cream has hardened. Cover with plastic wrap with the wrap touching the top of the ice cream to decrease crystallization.
Scoop it onto a cone and enjoy! It's got a nice kick while still being sweet and creamy like ice cream should be. Enjoy on a hot day, and you're sure to love it!
---
If you'd like to see more tastey recipes and DIY's from Holly, be sure to check out her blog and follow her on Instagram!