LV Turns 2! Featuring a DIY Weekender Bag + Giveaway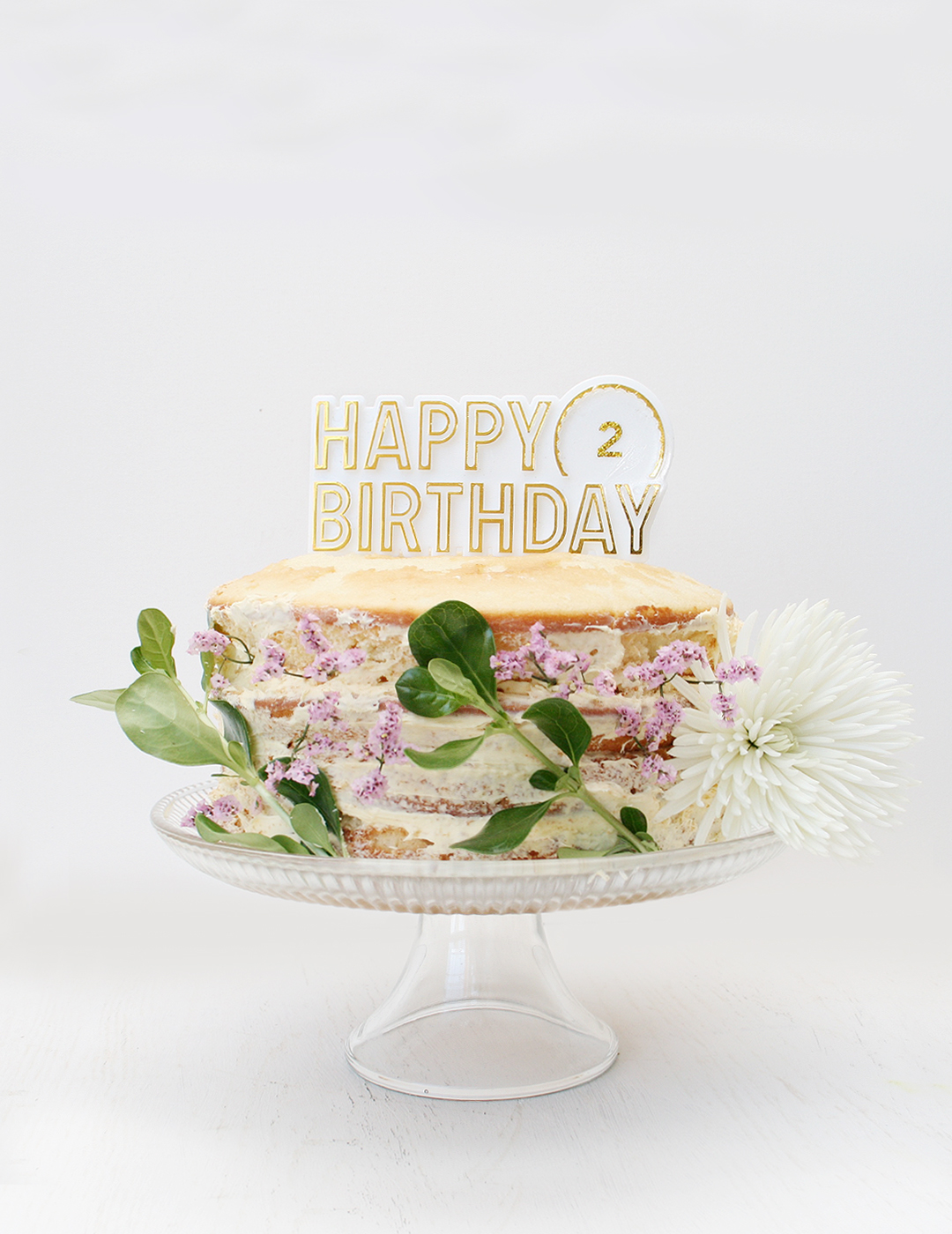 It's officially April and Love Vividly turns 2 on Friday!! It's crazy to think that I've been blogging for a whole two years now! I'm so happy that I get to share stuff on here with you guys and consistently have you all come back for more. Doing this blog started out as a little hobby of mine, not knowing where I wanted to take it. I simply knew that I wanted to have my own place on the internet where I could share my thoughts and have my own creative outlet. Not only do I enjoy blogging, but I also love that I get to meet new friends like you all along the way!
I have a feeling that this year will be my year for many things! First of all, and most importantly, it is B and I's first full year of marriage (loving life with him so far!). He's been such a great supporter of the blog (99.9% of the time he's the man behind the camera) and I couldn't thank him enough! One thing I'm hoping to do this year to better Love Vividly is to make a minor change to help expand its brand. I can't say all the details right now, but I promise I'll have it to you soon! I'm hoping you guys will love it! And for the many other things, while I don't have those just yet, I have a feeling this year will be grand!
I wanted to celebrate two years of Love Vividly by doing something for you guys to say thank you and show how much I appreciate you ALL! I thought no better way to do this than by sharing a DIY project and giving it away! (Giveaway details are at the bottom of the post!)
If there's one thing I've been on the search for it's a nice weekender bag. I'm pretty sure I've had mine since high school, and it's just not going to fly anymore. I was on the search last week, keeping in mind that this wasn't really going to be my bag, but what I would've wanted for myself, and found this cute blue and white striped bag at Target. I knew I wanted to put a cute travel phrase on the bag and this one was too perfect! To top it off, I found THE CUTEST gold pineapple keychain at H&M…so I had to include that with the giveaway as well! Okay, enough about the bag let's go!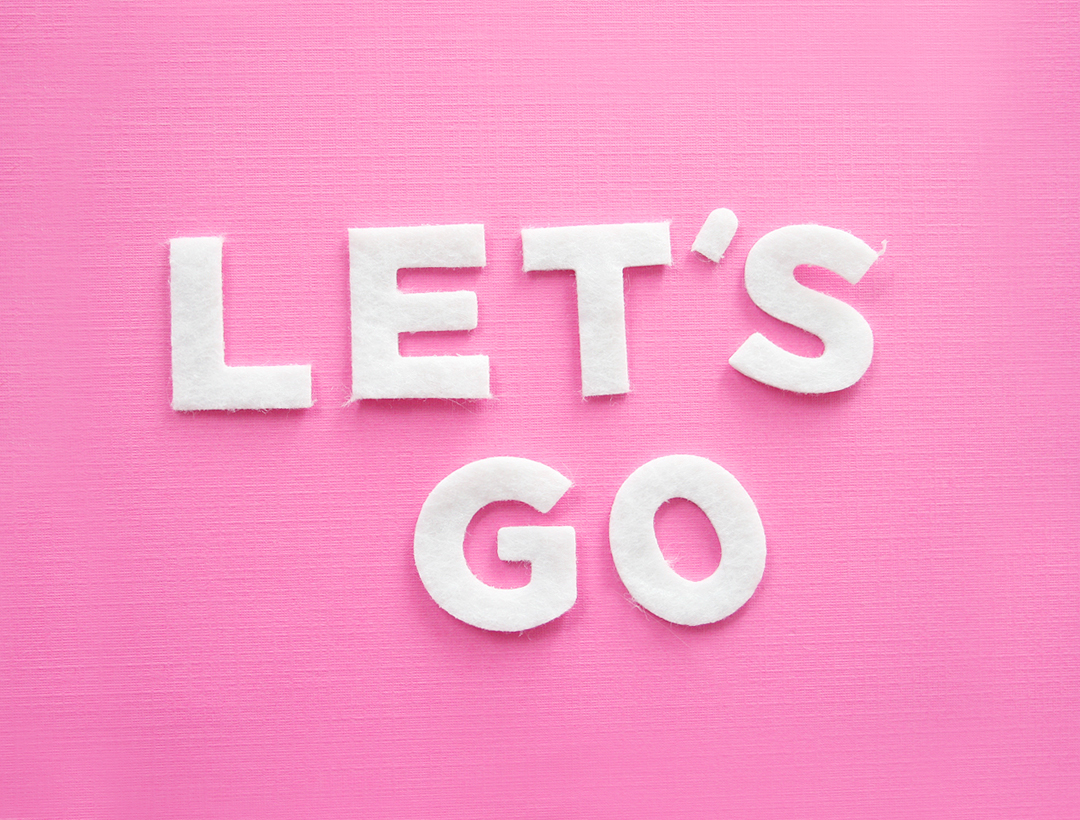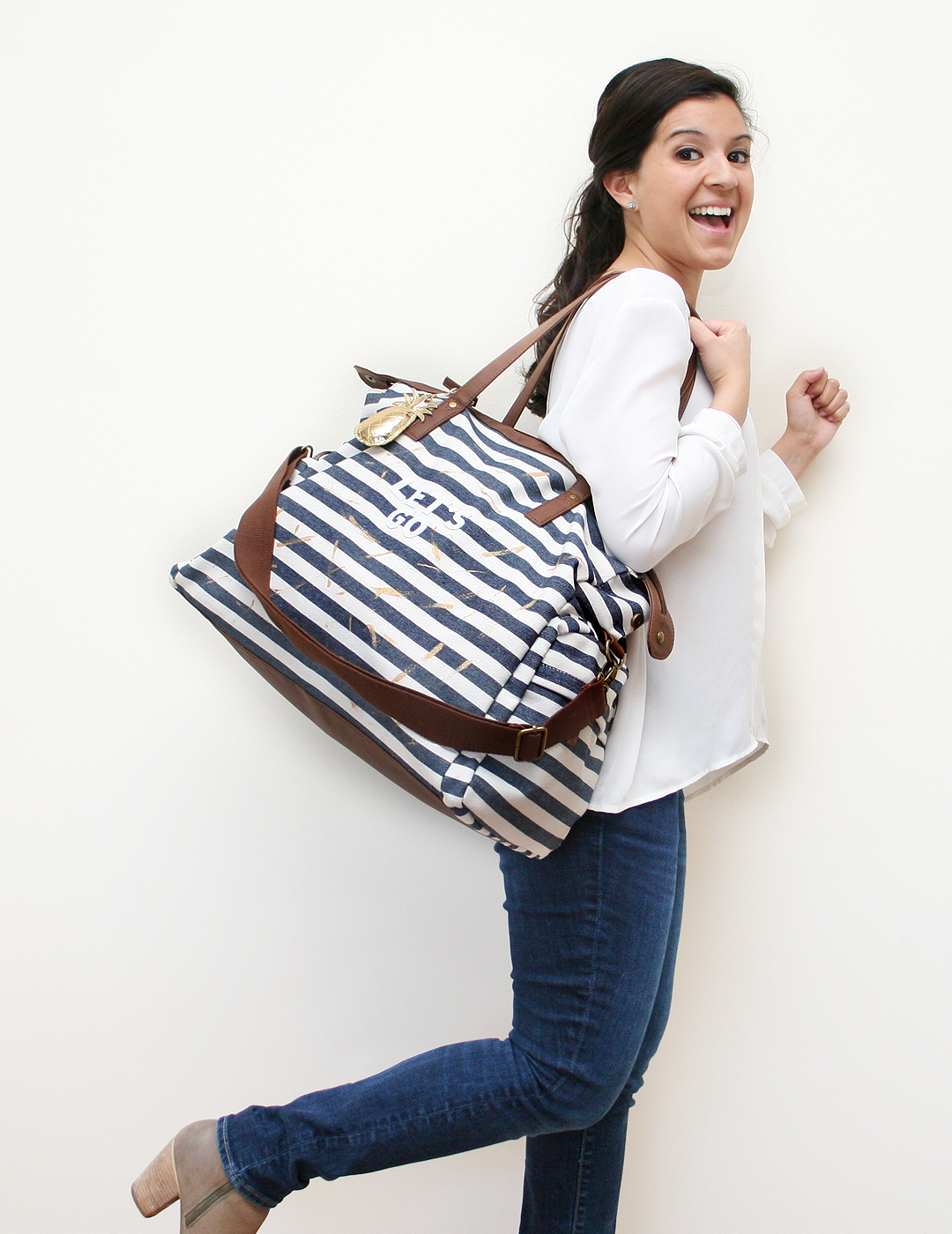 ---
What you need:
• Weekender bag (I got this one)
• Felt Iron-on letters
• Iron
• Metallic fabric paint
• Paintbrush
---
How to make your weekender bag:
Step 1: Iron-on letters of choice or phrase "Let's Go!"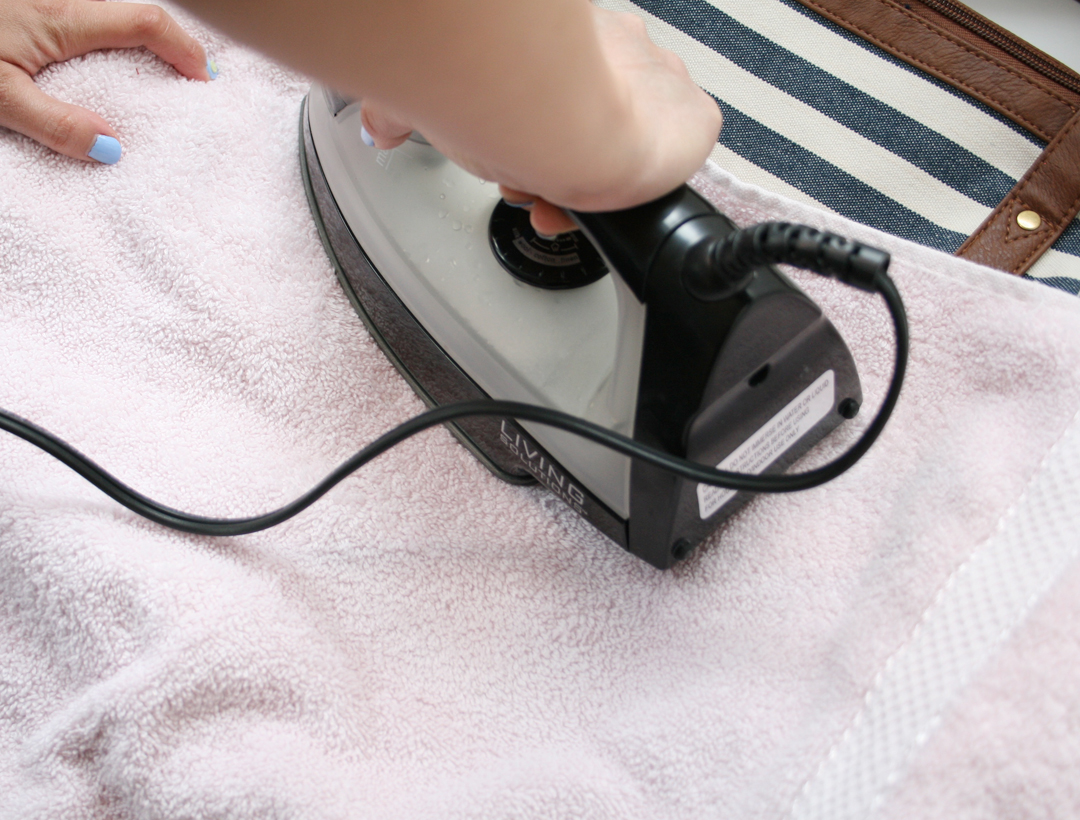 Step 2: Using a paintbrush, brush light strokes (color of your choice) onto the front and back of the bag. Let dry.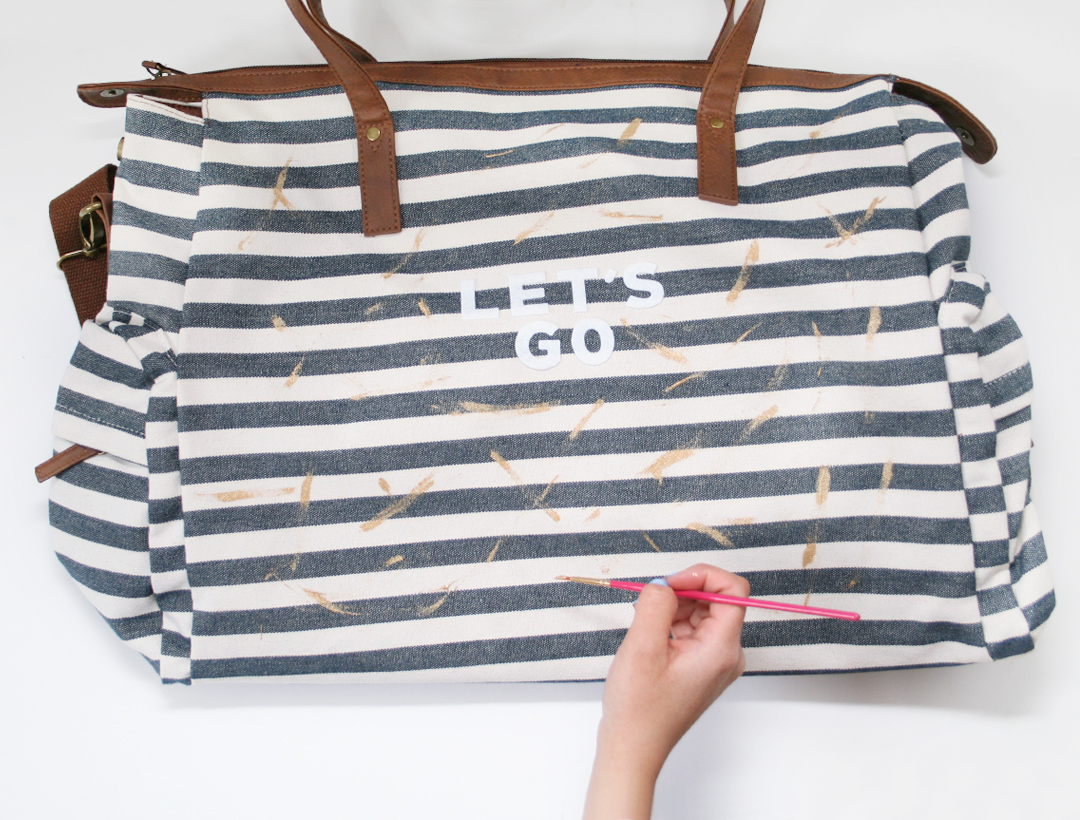 Step 3: You're ready to go off onto your next adventure! Enjoy!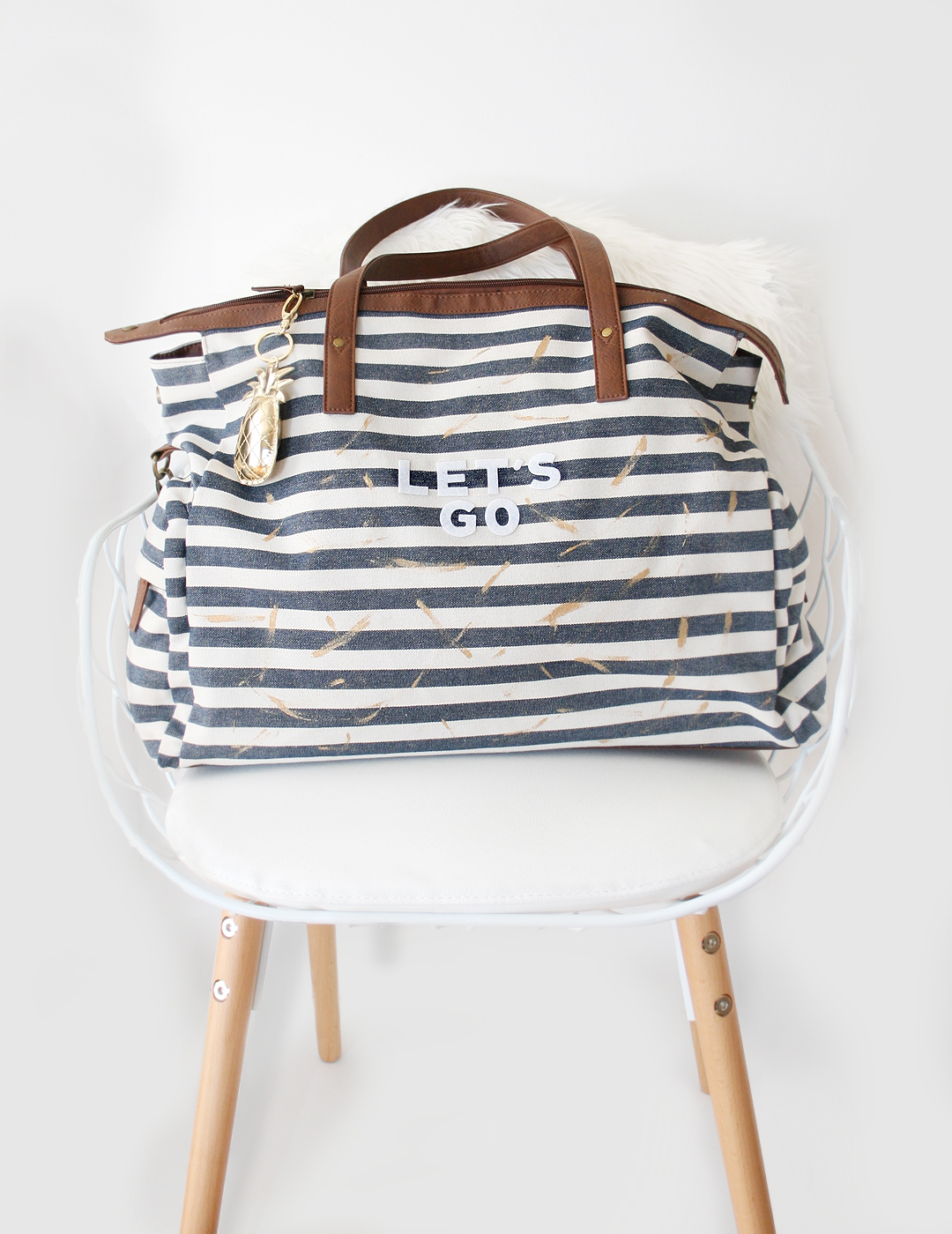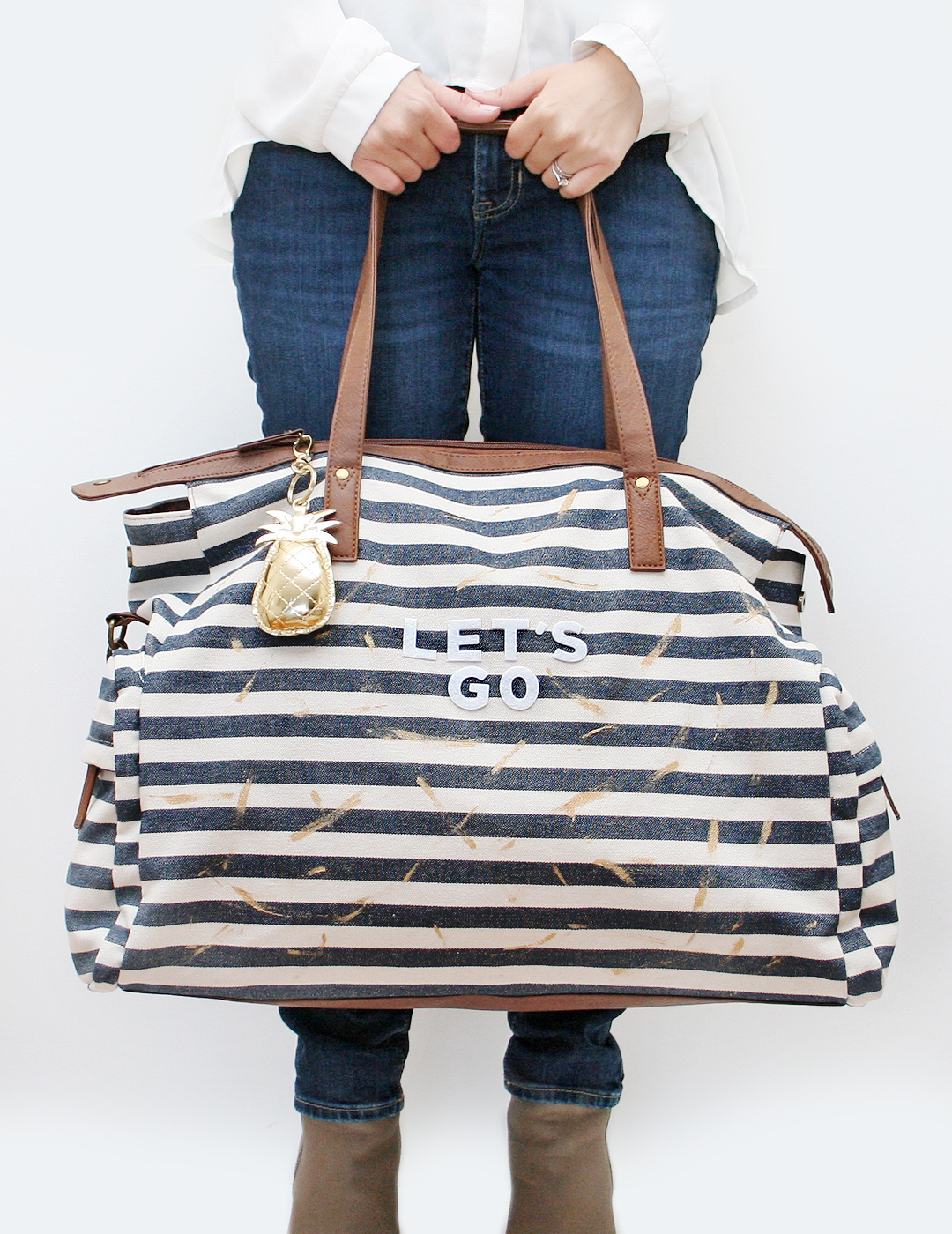 I wish I could keep this because it's super cute, but I'm honestly really excited that one of you get to keep it and travel with it forever! You deserve it! Okay, so I'm sure you're all like okay, when are you going to start the giveaway?! Well, the contest starts at 6pm EST on my Instagram page and I'll give all of the details then! So if you don't follow me already, be sure to do so!
Again, thank you friends for being such a big part of my life and helping keep Love Vividly alive and who it is today. You guys are the absolute best! xoxo! -MM