I thought I'd take a break from a DIY or recipe post and give you all an update on our place. I wanted to share this post now since I'll be sharing our Christmas home tour here on the blog soon and you'll notice that there's something new in the photos—a beautiful new art print!
Okay, so for the past year now, I've been struggling to figure out how to decorate the wall above our couch. I promised B that that entire wall was his and he could put up all the car related art pieces he ever dreamed of, but I secretly regretted that a couple weeks later when we started to talk about what pieces he wanted to hang!
As many of you may know, I'm a little controlling when it comes to decorating, but only because I want every little piece of decor to look good and cohesive with one another. So, in trying to stick to my promise and compromise with him, I did what I do best—created a mood board in Photoshop. This way I could show B how the art pieces would look in the space to give him a better idea.
I proposed many ideas to him trying to keep the whole car theme going on the wall. We literally discussed so many options on what to do for over a year. Well, now here we are and we finally hit the jackpot with this one!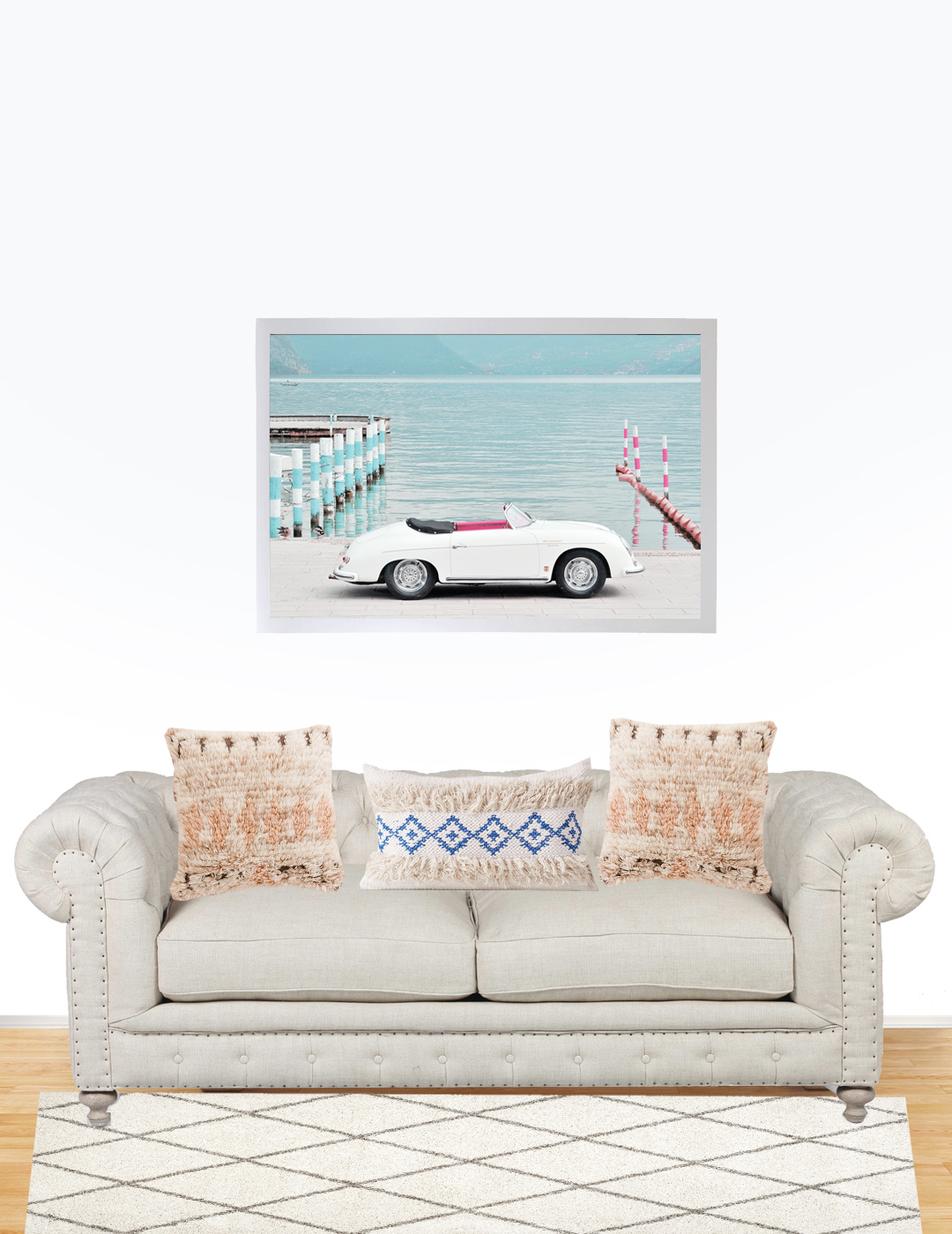 I found this photo via Pinterest and knew it would fit perfectly into our space. I did a little searching and was able to find a larger size here to download—the photo credit goes to Tim Scott. I even did a little color changing in Photoshop to make it more cohesive with the aqua color we have going on in the room (like our breakfast nook area).
Now, of course we need new throw pillows to go on our couch. I found the pillows shown in the mood board on Urban Outfitters and immediately knew they'd be perfect for the space! What do you think??
Once the holidays are over I'll be sure to share it all over here and give you an update on how the space actually looks!
---
1. Tufted Sofa
2. Wall Art—photo credit Tim Scott
3. Throw Pillow
4. Throw Pillow
5. Shag Rug