Father's Day Golf Tin Card
It's already mid-June and that can only mean one thing – Father's Day! I was trying to think of a different idea this year that involved DIY'ing a card. Ever since I'd seen these adorable diorama's made out of sardine cans, it inspired me to make something of my own using a small tin can. So, I did a little brainstorming and thought I'd make a Father's Day card using an Altoids can!
The theme I chose for this tin card was golf, because if you're father is like my husband, golf is probably on the top of your list as far as hobbies go.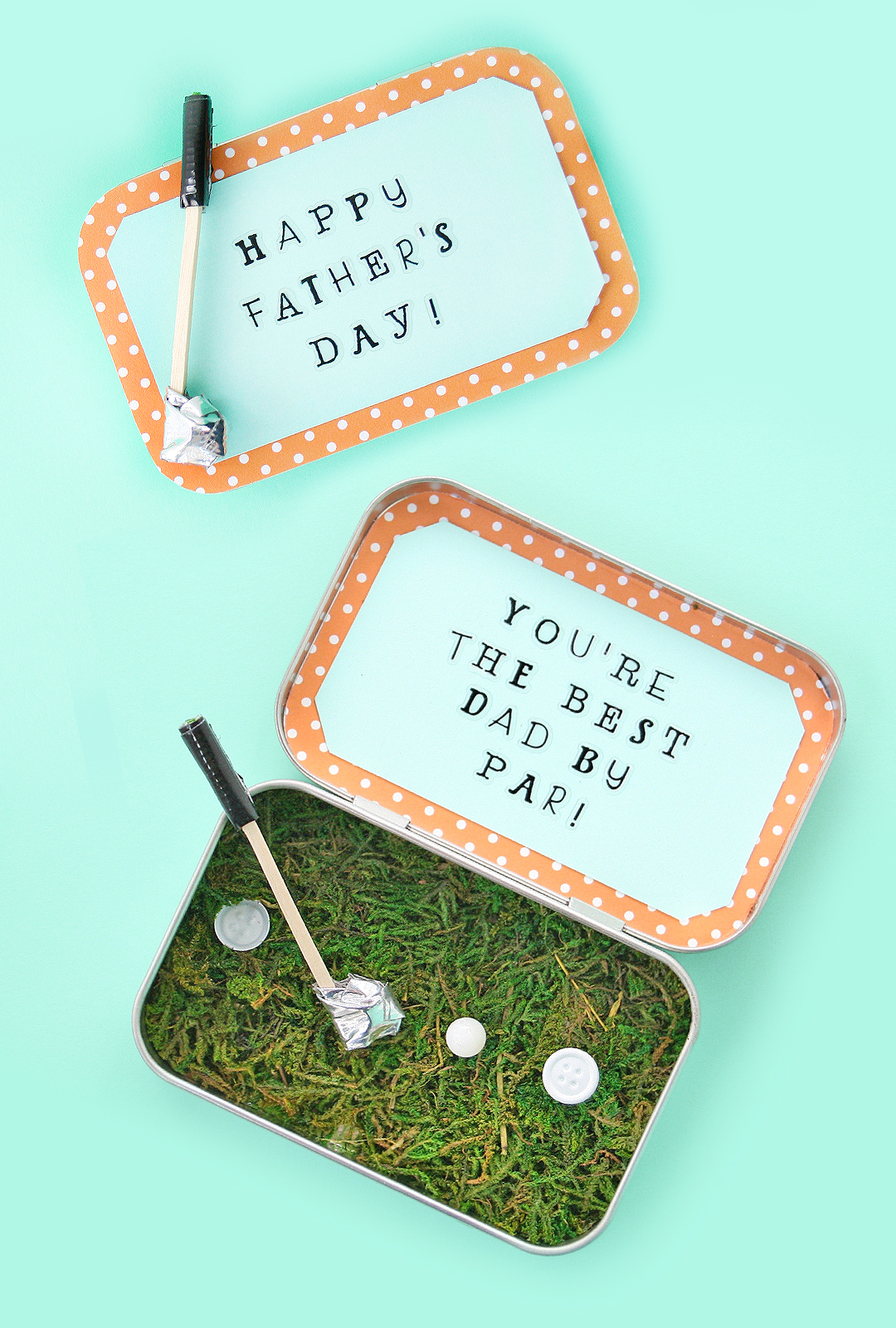 Here's what you need:
Altoids tin can
Stationary paper
Metallic tape (you can use washi-tape or duck tape)
Black tape
Letter stickers
Moss
White beads
Wooden Stick (used these)
Button brads (used these)
Glue
Scissors
Ruler
How to DIY your Father's Day Golf Tin Card:
Step 1: Using an empty Altoids can, measure and glue down the moss into the inside of the can.
Step 2: Measure the outside of the tin's lid, and cut out your stationary paper to the correct size. Once your stationary paper has been cut out and looks how you want it to, place your letter stickers on with the message you'd like it to say. After that's complete, glue the piece of paper onto the lid of the can.
Step 3: Measure the inside of the lid and cut out the stationary to the correct size. Once cut, stick your message onto the paper. Here's where you can be playful with your message inside! Glue this piece of paper onto the inside of the lid.
Step 4: Now onto the golf club. Cut a piece of black tape and wrap it around the top of the wooden stick, acting as the grip part of the club.
Step 5: Next is the club face itself. First, cut out a piece of metallic tape. Grab a white bead and place it at the other end of the stick and wrap it with the metallic tape. This will resemble the hitting end of your golf club.
Step 6: Stick one of the button brads into the moss at one end of the tin. This will be the tee.
Step 7: Grab another button brad and flip upside down. Glue this onto the other side of your tin. This will be your hole. Note: I cut off the fastener part of the brad, making it easier to glue down and resembling more of a hole.
Step 8: You did it! Your Father's Day golf tin card is ready for your special someone!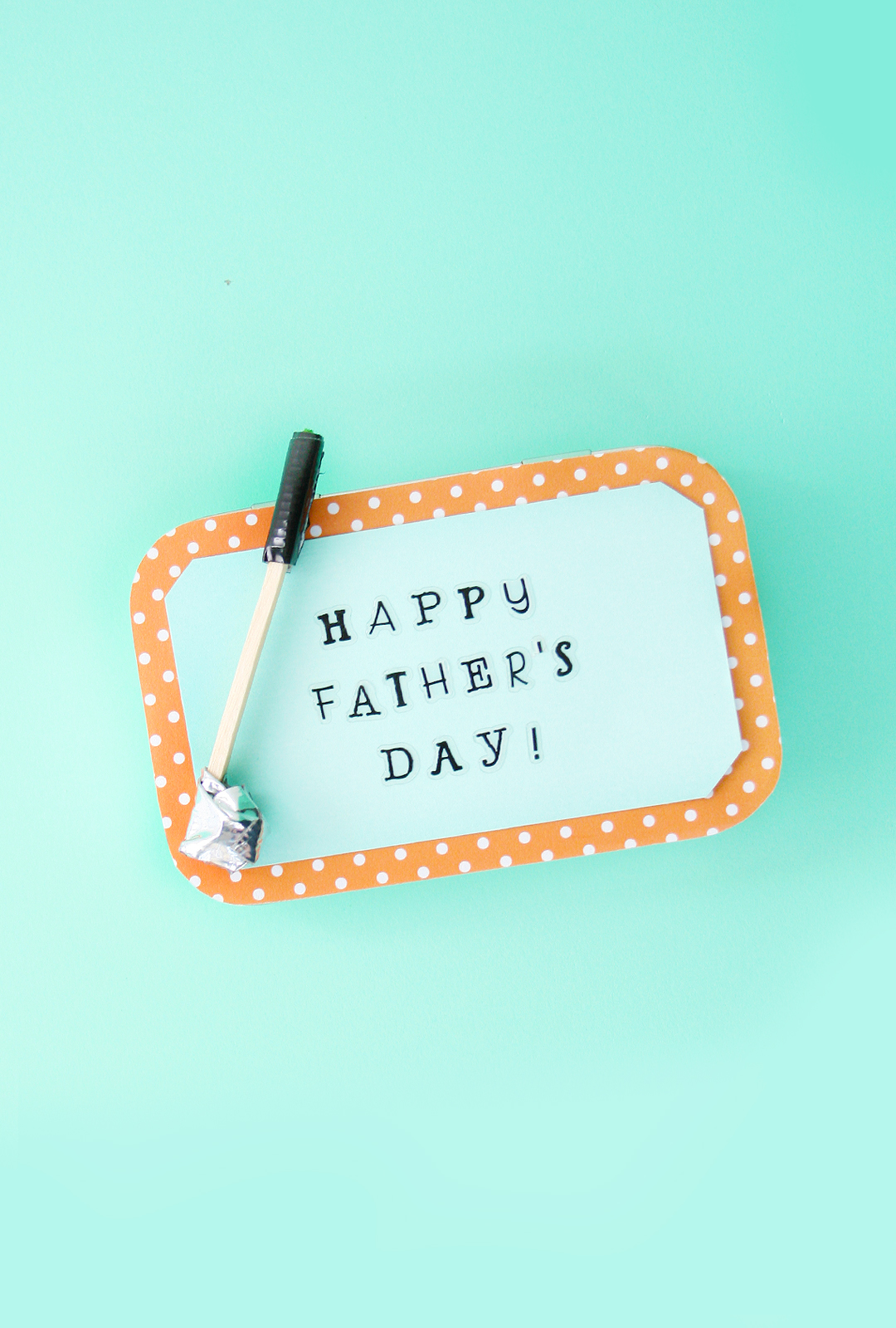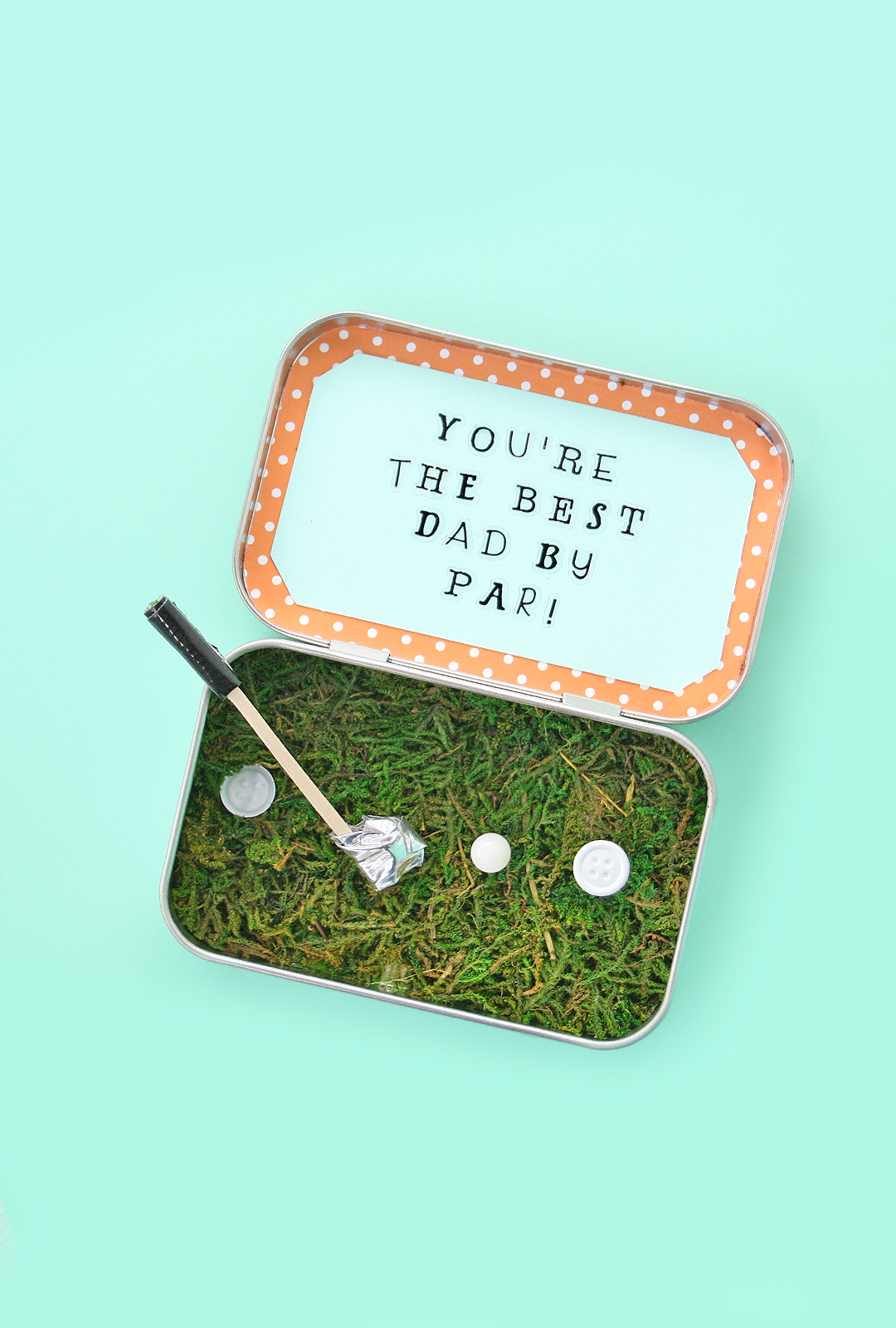 I honestly thought this project was going to take me longer than it did, but it only took me about 30 minutes – win! Are you crafting up anything for Father's Day? Let me know, I'd love to hear!!
You may also like this printable Father's Day card, this printable Father's Day beer label, or this DIY Beer Caddy.