DIY Wedding Planning: Throwing Your Dream Wedding on a Budget
I've wanted to do this post for a while now, and I finally sat down to brainstorm how to put it together for you all. I couldn't have written it at a more perfect time as it's basically wedding planning season right now! Last August, B and I had the wedding of our dreams, but there was one catch—it was on a super tight budget. When I first started researching how much weddings typically cost, the average seemed to be about $35,000. This cost was waaaay out of our price range. Originally, B and I were trying to have a wedding where we just put in all we had, which was $5,000 at the time. Well, we started doing research on how to throw a DIY wedding under $5k and it was almost impossible for us (I'll explain why in the Venue section). You can read more about our wedding planning journey here. From this researching, we decided on a more realistic budget of $15,000. Thankfully, our wonderful families were able to help us out with this excess cost, allowing us to have the wedding of our dreams!
We also realized that nobody really talks about how much they spent on their wedding once it was all said and done. As we found this frustrating during the process, it was something we were determined to share with others to inform them of the real cost of a wedding.
Well guys, I'm taking the plunge and putting it all out there— B and I successfully had our dream wedding on a total of $19,853.00. In this post I'll be talking about how much our wedding cost (itemized) and how we had to reconsider some options to stay within our budget. Bare with me now because this post is long, but I'm hoping it'll be extremely helpful to anyone planning a wedding.
---
01. The Venue

Choosing a venue is so important because this can honestly eat a huge chunk of your wedding budget money. When searching how to have a wedding on a budget of $5k, a backyard was the number 1 option. I think this was something we would've considered had we had a large back yard, but we didn't. Instead, we knew we wanted it to be at our favorite beach—Cape Charles, VA (total no-brainer for us). This actually worked to our advantage because it's a small beach town and the price to rent out a venue was not as expensive as if we were to have our wedding at a well-known place (e.g. Virginia Beach, Outer Banks, NC). You can read about our venue-searching journey here on how to find cheaper options. I think choosing the right venue is important, but can bring a hefty price tag if food is to be provided by the venue. That alone can cost $20k depending on the number of people you invite, and the types of food served. You may want to consider having it at a public space, such as a state park or public beach for real savings.
Total cost to rent the venue for ceremony and reception: $2,000
---
02. The Dress

This was probably more important to me than the venue. I was willing to cut the cost on other items in the budget to have the dress of my dreams. To be honest, I was looking to only spend $200 or less on my dress, but ended up falling in love with a dress that was a little out of my budget. Thankfully, my amazing family put their own money towards the dress knowing that I found the one. To some, this may not be as important and that's okay! This day is all about you and marrying the man of your dreams, but let's be honest, all eyes are on the bride (side hand sass emoji).
Total cost to rent the venue for ceremony and reception: $1,400
---
03. The Wedding Stationary

Okay, so this part was really nice for us and cut some cost due to the fact that I knew I could design our entire wedding stationary set by myself. As an added bonus, I also have the best friend and printer ever, who were willing to donate their services. This resulted in our wedding stationary costing nothing for design and printing. A way to cut cost on your own wedding stationary would be to look online for printable invites that you can simply print at home; I know Etsy has a lot of options for you to choose from. I am also selling our entire wedding stationary here in my Etsy shop.
A few items we did purchase within this category were stamps, envelopes for RSVP's, address labels, and ink.
Total cost for wedding stationary: $99
---
04. The Photographer, Videographer, and DJ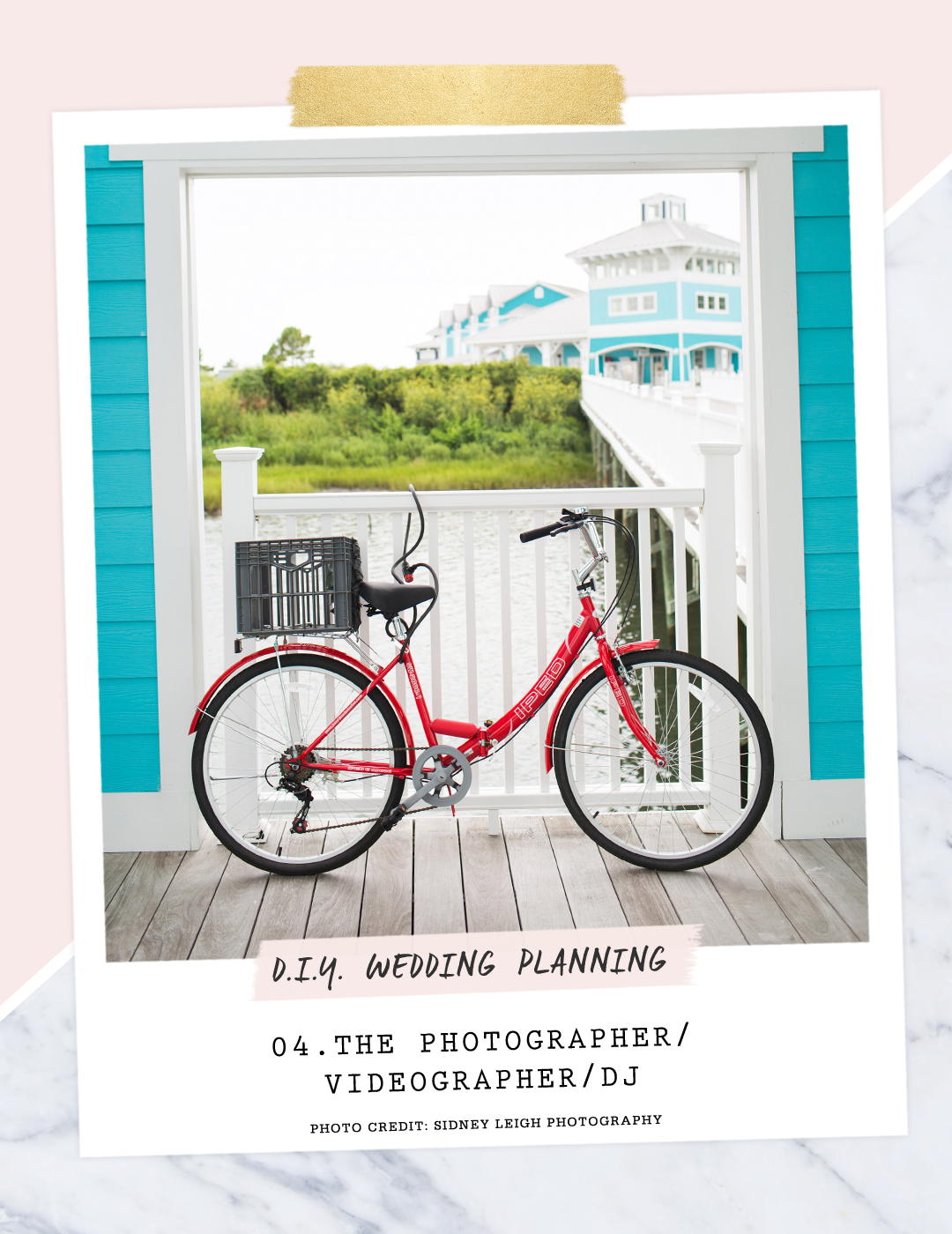 This was the second most important part of our budget. We were willing to spend a little more on these important factors and cut the budget somewhere else because these would be the people making and recording the memories. We were really lucky in finding the right vendors for all of these pieces. Honestly guys, if there's one thing I would say to spend a little more money on it's these people. Your photographer and videographer are so important (if you do choose to have both) because they are the ones capturing all those special moments for you to have forever that you did and didn't see on the day of. B and I may not be the best dancers, but we sure love music! The DJ is that person—they're the ones bringing life to the party so everyone can get down and have a good time. Music for us was a must and we were willing to spend money on a DJ rather than having a computer or iPod set-up. However, going the route of hooking up an iPod to speakers is an easy way to save a couple thousand dollars!
Total cost for the photographer, videographer, and DJ: $4,600
---
05. The Cake, Food, and Drinks

Ah, the tastiest part of a wedding! After the I Do's have come and gone, it's time to celebrate the wonderful occasion with plenty of great food, beverages, and of course, a spectacular wedding cake. This portion of your wedding will most likely be the most expensive, but allows for numerous areas to keep within that budget of yours!
Depending upon your wedding venue, food and drinks (including alcohol) are typically done in "packages" if not by individual item. For our venue, we chose our food from a package listing of appetizers, salad, and main course. Adding extra appetizers or main course dishes for a fee, while nice, are easy to exclude. Trust me, we fought over oysters (an additional few hundred dollars), but decided it was unnecessary. Knock out those items within a package that may cost extra per person as well. Is it really worth $500 to give your guests steak instead of chicken?
The next step is drinks. If not already included in your food package, most places will provide your standard iced tea, sodas, etc. at a small additional charge. For those looking to make the wedding a bit more fun and…memorable, alcohol is a frequent choice! During this process, we found an easy way to save thousands: cut out liquor. Our venue offered a beer and wine package, and liquor for an additional charge of $10/person or so. Depending upon the number of guests you have, adding liquor can get expensive quickly. Additionally, we figured that most people are perfectly fine with a beer or glass of wine, and it gets the job done just as well if that's what you're going for! Having a cash bar can also make it easy for those hankering for some shots or cocktails. Another beverage cost that we cut out was a champagne toast. We felt the few hundred dollars extra for this was unnecessary as a toast can be given no matter what drink everyone may have in their hand at the time.
The last piece of food is the wedding cake. When choosing a cake, look for things that can save you money: amount of icing décor, size, type, and amount of flavors. We chose a naked cake as it was less icing, and no fancy iced decorations or designs, which saved us money. We also stuck to one kind of cake, one flavor of icing throughout, and had sheet cakes made in order to provide enough slices for all our guests. Be sure to check around the town of your wedding location too: places nearby can save on any travel expenses, and a restaurant may be able to provide a wedding cake at a lower price than a specialty bake shop.
Total cost for Food: $4,095; Drinks: $2,670; and Wedding Cake: $450
---
06. The Details: Flowers and Wedding Décor
This one was a bit of a struggle for me. We all want that Pinterest wedding and I promise you can still have it even on a budget.
Flowers—if you don't know someone in the flower industry I think this one can honestly suck up a lot of your money. Flowers are important, but then again are they really that important? To me, not so much. I had so many ideas on how I wanted the bridal bouquet, bridesmaids bouquets, flower crowns, boutonnieres, etc. to look and that all went downhill once I found out the total cost…almost $1,000. We only had a budget of $400 for all of this. So what did we do? We went to Etsy. Having faux flowers at our wedding wasn't an issue for me. The flowers die anyway and faux flowers can look just as beautiful as the real ones. We personally felt it better to spend our money elsewhere. For instance, are your guests going to remember the flowers you had at your wedding, or your uncle getting down on the dance floor? I found the perfect shops on Etsy for all of this.
We also wanted flowers on all the tables, and decided to go the faux route as well by purchasing them at Michael's. Best idea ever! Nobody judged and it looked great!
Wedding décor—B and I went to antique shops for this one. Who doesn't love antique shops and all they have to offer?! We also wanted our wedding to be simple, which helped on having fewer table décor. Not only is it cheaper, it's super cute and chic! In addition to antique shops, I also designed all of the wedding signage and printed at home.
One important factor we decided not to have was a tent. Our ceremony was outside, but we were willing to take the risk and not rent a tent as backup. Thankfully, we knew we could have our wedding at the church our pastor preached at. However, we did want to have an arbor for our wedding ceremony, which was not pricey at all.
Oh, and I can't forget the table linens! We didn't have enough in our budget to go crazy on color or overlays, so we decided to stick with all white linens. We knew we could jazz everything up and make it look just as good with the table décor. I think this is something that you could compromise on if you are willing to. It was a huge success for us!
Total cost for flowers and wedding décor: $1478
---
07. The Miscellaneous Expenses

This portion of wedding expenses brings us to the small things that quickly add up. For our wedding, miscellaneous expenses included the following: tips/donations ($600), hotel stays for our photographer and videographer ($246), sparklers for our send-off after the reception ($95), tax/gratuities from our wedding venue ($2,000), dry cleaning/tailoring of B's clothes ($33), and a wedding website through Squarespace ($86). Note the exclusion of some expenses that do add up such as gas, tolls, a wedding rehearsal dinner/cookout, hotel or beach house, and everything around the engagement photo shoot, just to name a few.
Total cost for Miscellaneous items: $3,061
---
Whew, that was a long post, but I'm really really hoping it was helpful to you guys! Wedding planning can be crazy, but I promise you'll get through it! Having a DIY wedding can be even crazier, but it is totally worth it in the end (money and a satisfactory "ah" moment!). If you want to see how our entire wedding day went, you can check out some photos here.
I wish you all the best of luck with the planning! Just remember, the day is about you and your significant other, nothing else. If you have any questions regarding wedding planning, while I'm no planner, I would certainly be happy help!