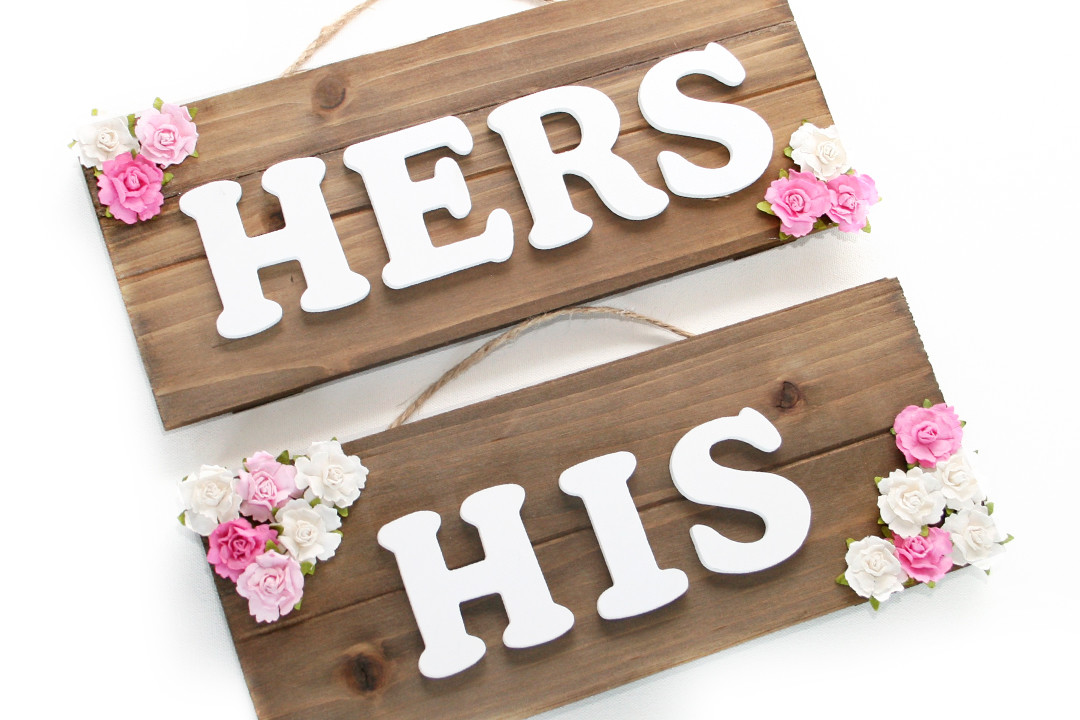 DIY Wedding Bride & Groom Chair Signs
I'm currently in crunch time right now with my wedding being just 11 days away (…oh my gosh…)! Honestly, I cannot wait for the day to get here. I've dreamed of this day since I was a little girl and yes, my dreams have changed a bit since I was little (like no Marianela, you can't actually enter the ceremony on an elephant!), but so far it's been everything I've thought it up to be. Yes, I've had to make some compromises on wants, but I have no regrets so far on eliminating them to stay within our budget.
I haven't been sharing too many DIY's that will be at our wedding because I want it to be a surprise, BUT I did want to share these DIY bride and groom chair signs with you. I know a lot of you are getting married soon (like days away from mine) and I thought I'd just put this DIY out there for any last minute things you can't purchase online. I wanted to be a little different and put "his" and "hers" on the signs, but you can certainly do bride & groom, mr. & mrs., yours & mine, …etc. you get the point!
So here we go to the DIY. I was able to find everything at Michaels, but for some reason I couldn't seem to find these wooden signs online. So if you are going to go to the store be sure to look in the wood crafts and supplies section.
---
What you need:
• 2 Wooden signs
• Wooden letters
• Floral embelishments (found in the scrapbooking sticker section at Michaels: here and here)
• Hot glue gun
---
How to make your bride & groom chair signs:
Step 1: Lay out your letters exactly how you would like them to be placed on the wood. This way when you go to glue, it'll be easier for you to know exactly where to place the letters without making a mistake.
Step 2: Once hot glue gun is ready, glue your letters onto the wood.
Step 3: Now you can place your floral embellishments onto the wood. Again, be sure to first lay it out how you would like it to look before gluing all of them down.
Step 4: Once floral embellishments are glued, let dry for about 10 minutes.
Step 5: Your bride and groom chair signs are ready to be displayed on your big day!
Super easy DIY huh? I love these simple crafts that add a personal touch to your big day! I can't wait to have ours displayed at B and I's wedding…next weekend!!