DIY Mint to Be Sugar Scrub
I had such an incredible time this weekend with my wonderful friends and family! One of my bridesmaids along with my sister threw me the best bridal shower yesterday, and it was everything I could've imagined it to be! Of course, I wanted to plan everything for this big event, but I knew I had to stay back and let them handle it. However, I had requested that I at least make the party favors; so of course I did and I had to share! They turned out lovely and I think everyone should make this at one point in their life! It makes the cutest/sweetest gift, and it's unique in that it is personally made by you :] AND I have included a free printable to go with it too! Wahoo!!!
Click the above image to download your free printable or click here.
Please note: If you'd like this sticker tag to be customized with a name change, color change, etc., I have created an Etsy listing here. I'd be more than happy to make these changes for you.
---
What you need:
This recipe makes enough to fill about 20 of the mini jars that you see in the photo below.


• Jar(s)—4 oz. jars found here
• 2 cups of coconut oil
• 10 cups of sugar
• 4 tablespoons of mint extract
• 4 drops of green food coloring
• Silhouette Printable White Sticker Paper

• Mint to Be Sticker Tag Free Printable—the circles are 2 inches in diameter, allowing them to fit perfectly onto the lid (I used this 2″ puncher)
***Again, if you'd like to customize this sugar scrub label with a name change or color change please click here***
---
How to make your sugar scrub:
*recipe adapted from Love Grows Wild
Step 1: Using a large bowl, mix in your coconut oil, sugar, mint extract, and green food coloring. Stir until well mixed.

Step 2: Once sugar scrub is well mixed, place into jars.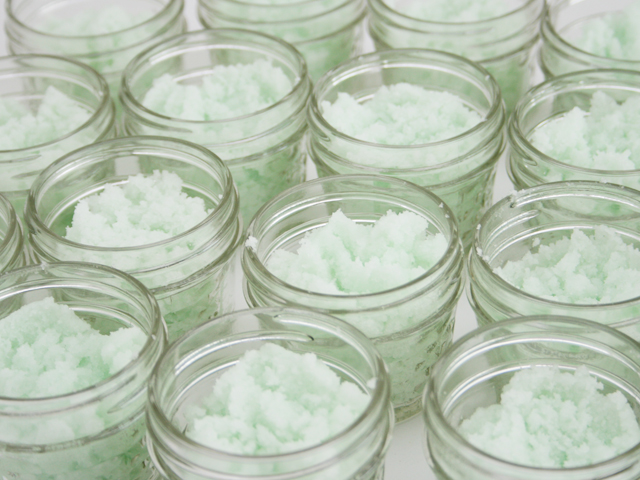 Step 3: Place your "mint to be" sticker labels onto lid of jar and voilà! your "mint to be" sugar scrub is now complete!
I highly recommend making this sweet concoction. I scrubbed some on my hands after I made it and oh my goodness it makes your skin feel ah-mazing! It smells minty too!! This DIY recipe could not have been any better! Have you made sugar scrub before? I was thinking of making raspberry too, but this mint one was too good not to make first!
You may also like this sugar scrub.
Disclosure: This blog post contains affiliated links above. As an Amazon Associate I earn from qualifying purchases. This means at no additional cost, I will earn a commission if you click through and make a purchase.