DIY Football Field Tray + Chobani Mezé Dip
Hi guys! I hope you had a wonderful weekend! It's officially October and football season has fully begun! Here at the Mayhew household it's literally on all day Sunday (B's a huge fan)! We occasionally invite my sister and her boyfriend over to watch a game and are always scrambling looking for food to put out for all of us to snack on. Typically, we would put out B's favorite—chips and salsa. However, if you know me, I'm a fan of anything veggie and would prefer that be out on the table. So when we heard about the new Chobani Mezé dip™, we had to give it a try, and not with your typical chips, but with VEGGIES! Yummmm!! It's a much healthier way to dip, and tastes just as delicious when accompanied with the perfect dip!
I thought it'd be fun to make a DIY football field tray that can accompany your finger food! I chose the new Chobani roasted red pepper yogurt dip as my centerpiece for veggies on the tray, but you can choose from a wonderful selection of other flavors! 
---
How to make your own football field tray:
Supplies needed:
• 11 in. x17 in. picture frame
• Moss Mat (found this 16 in. x 18 in. one at Michaels)
• Sticker numbers
• White acrylic paint
• Glue
• Foam brush
• Blue painters tape
• Ruler
• Felt pads (optional—these will help not scratch the surface you place your tray on)
---
Instructions:
Step 1: Using the cardboard backing from the picture frame, measure and cut the moss to fit the size of the board.
Step 2: Once cut, glue the moss down onto the board. Let dry. Note: the moss I purchased was adhesive, but after reading mixed reviews on the item I decided to just glue it down instead. It sounded like the adhesive was too sticky and strong in scent.
Step 3: Using a ruler, make a mark at 2.5 in. from the edge of the board – this will be your 10 yard line. From this mark, measure out 3 inches and make another mark – the 20 yard line. Continue out every 3 inches from the 20-yard line to create the 30, 40, and 50-yard lines.
Step 4: Next, you need to measure out the thickness of the lines too. From each of the 5 marks made, measure 0.25 in. to the left and 0.25 in. to the right of the mark. Make two new marks at each of these points, and you will have the thickness of your yard line – 0.50 in. width. Repeat this step across all of your yard line markings from Step 3 above. Add tape to each side of the 0.50 in. wide lines in order to prepare them for painting in the next step.
Step 5: Now that your guidelines have been taped down, use your foam brush and white paint to paint the white lines on the moss. Let dry.
Step 6: Stick the numbers on their corresponding line.
Step 7: Place the glass on top of the football field and put back into frame. Optional—you can now place the felt pads onto the back corners of your frame.
Step 8: Your football field tray is ready for it's Mezé Dips, veggies, and gameday!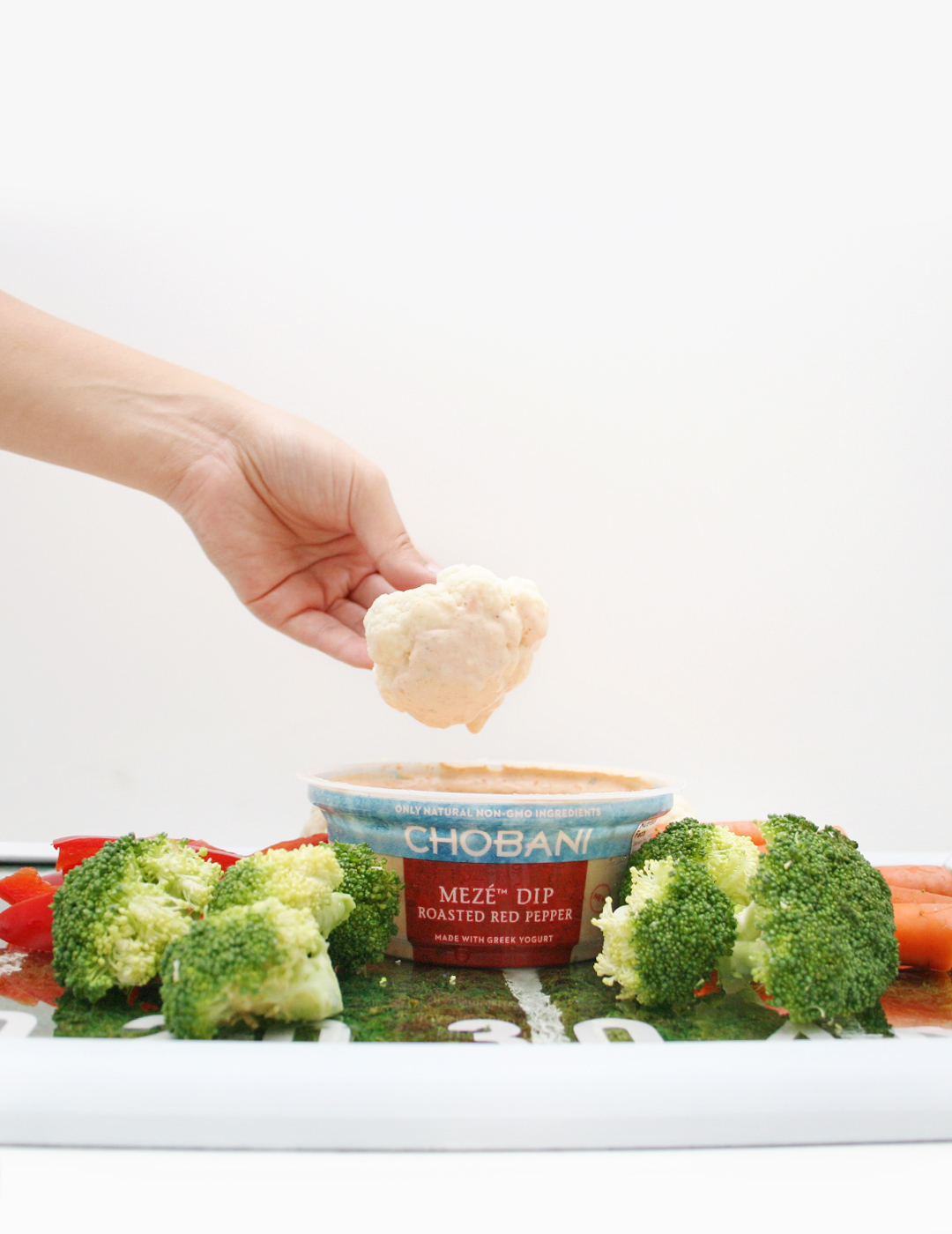 B was definitely a huge fan of this tray and the dip was a big bonus!! What I loved about the appetizer was that it wasn't just a go-to chips and dip kind of finger food, but it was a super creamy and delicious dip that you could dip a vegetable into and have it taste just as good as a chip (and healthier)! I'm a huge vegetable fan over here, and this appetizer will now be my go-to! How will you dip this season?