I've been working on this breakfast nook for almost 2 months now and if there's one thing I've learned through this process, it's that patience is key. I've been searching far and near (and literally every HomeGoods store within a 40 mile radius of my home) for anything and everything to get this little nook going. I had some initial ideas but those slowly changed once I looked at the price tag of everything I actually wanted for the nook.
If you remember this post, you'd know I was totally into the tulip table (and still am), but neither our budget nor space was having it: we determined that we couldn't purchase a table larger than 36 inches in diameter. I know you can purchase a beautiful tulip table from Ikea, but as soon as we found out that it couldn't fit it into our space, my dreams slowly crashed… BUT no big deal! I quickly did my research on what I wanted the nook to look like and am so happy with everything we did! I wanted to share the mood board with you guys today before I show you the big reveal! It's really coming together and we have one last big thing to finish before I can share the breakfast nook I've been dreaming of!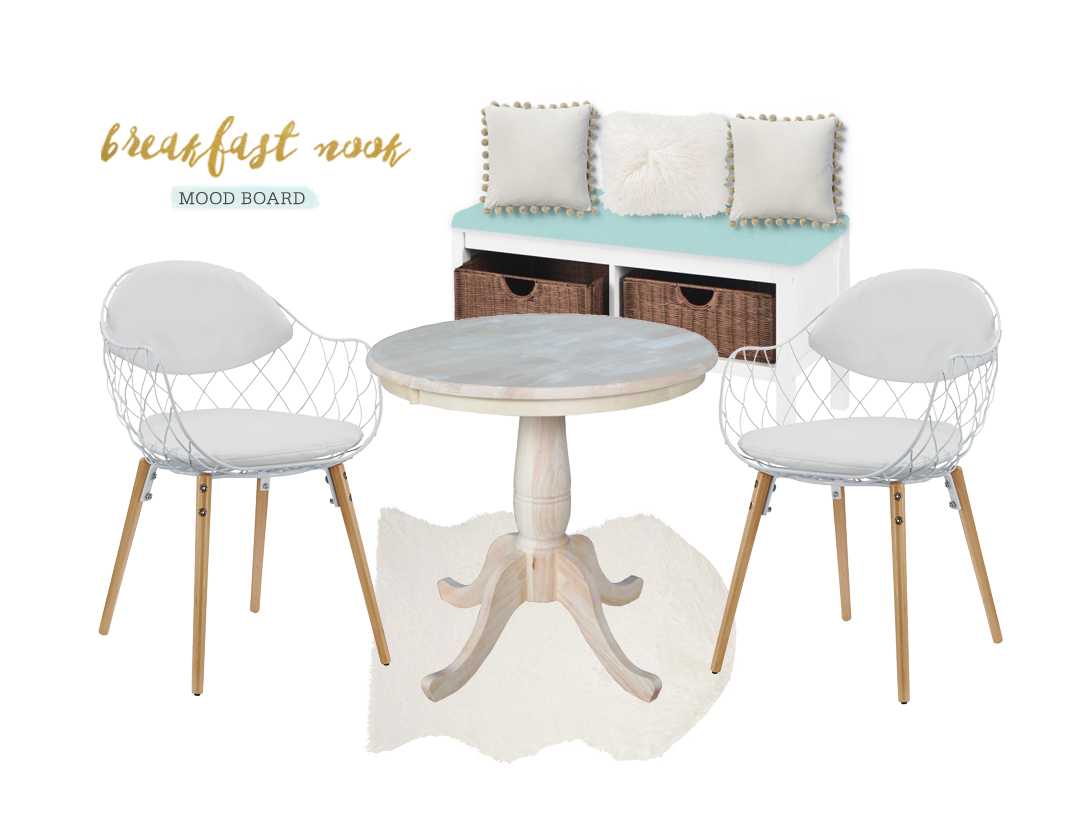 Here it is!!
• Chairs—these beauties are looking real good in our space right now!
• Pom pom and faux fur pillows—a super must! You can see a sneak peak to the pillows I purchased on my Instagram…thank God for HomeGoods!
• Faux fur rug—need…I think we get that as I have a huge thing for faux fur at this point.
• Unfinished round wood table—I'll explain this one in the big reveal post!
• White storage bench—we didn't purchase this exact one, but just wanted to give myself the idea of what it'd look like in the space.
I'm hoping to be completely finished with this little nook by the end of the month. We don't have too much left until the space it complete, and I can't wait to share it with you guys!
I hope you all have a wonderful Thanksgiving and eat plenty of stuffing and sweet potato casserole! xoxo