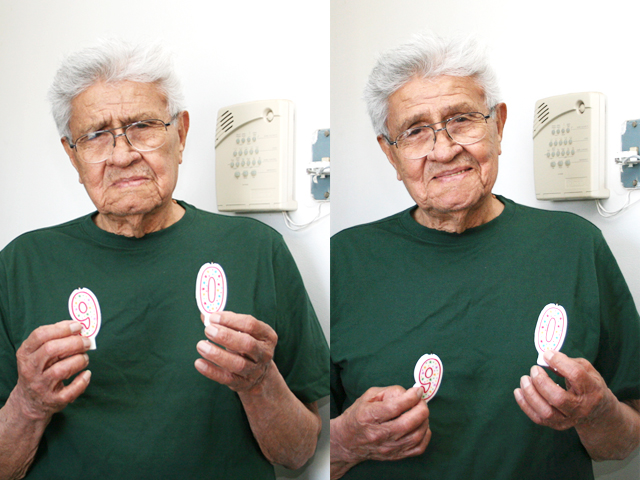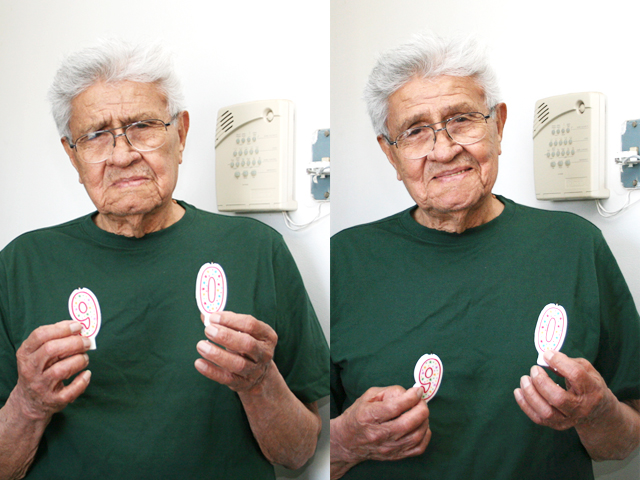 I would love nothing more than to make my first blog post about my 90 year old grandpa! I celebrated his 90th birthday with him yesterday, and it was absolutely wonderful! He's one of the strongest, most loving old men out there…and when I say strong I mean "fuerte" (which means "strong" in Spanish). He still rides his bike to the grocery store and pretty much everywhere he needs to go. As a matter of fact, he's never even driven a car before!
Yesterday was special; my grandpa was smiling and laughing. He has always told my sister and I to never smile or laugh too much. Listening to him say that to me has always made me laugh. Funny thing is, that old man knows what he's talking about. His take on smiling is that it will give you more wrinkles on your face, leaving you looking older.  When you laugh he says, you have to clinch your lips inward and make the letter 'O'. As a joke growing up, my sister and I would always laugh like that and try to see who could do it better.
I have unconditional love for my grandpa. As a matter of fact, you'll also learn that I have unconditional love for anyone's grandma and grandpa! It's kind of a weird obsession of mine… I think they're probably the cutest people that happen to walk on this earth. Am I the only one that feels this way?!
Well, here's to you grandpa! Happy 90th birthday!